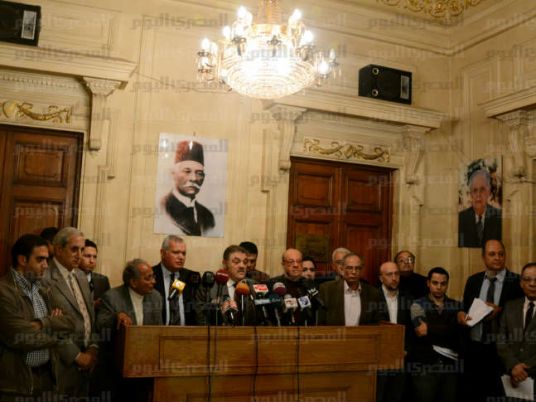 The National Salvation Front (NSF) announced on Sunday that it is continuing its work in order to preserve the democratic path, as it put it.
The front has postponed the announcement of the presidential candidate it is supporting until the close of the candidacy deadline.
Front leading figure Sayed al-Badawiy, head of the Wafd Party, said the political and revolutionary forces must unite to face the terrorism and the plots hatched against the country. "The front will continue to protect democracy and human rights," he said.
He also said that Wahid Abdel Meguid was chosen as the front's spokesperson.
Minister of Social Solidarity Ahmed al-Borai said he attended the meeting in order to listen to the different views of the political parties. He accepted to work as the front's general coordinator and called on Ahmed Saeed to continue as secretary general.
Front leading figures Amr Moussa, Mohamed Abul Ghar, Hamdeen Sabbahi and George Isaac did not attend Sunday's meeting for personal reasons and not for any differences with the management.
The front was established by Amr Moussa, Hamdeen Sabbahi and Mohamed ElBaradei in 2012 to lead the protests against the regime of ousted President Mohamed Morsy.
Edited translation from Al-Masry Al-Youm