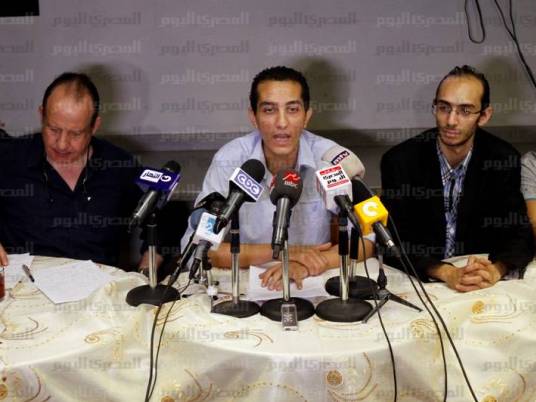 National Salvation Front has begun its first joint session with representatives of the Tamarod movement to explore the formation of an electoral alliance for the parliamentary elections.
The front has decided to hold the meeting of its supreme body in Wafd Party headquarters on Saturday.
The joint meetings are an opportunity for Taramod, who has announced their intention to run for parliamentary seats in the next elections, to combine forces with other organizations who serve similar constituencies.
Mahmoud al-Alayli, spokesperson of the front's election committee, said he met with Tamarod representatives Mohamed Abdel Aziz and Hassan Shahin to discuss methods of unifying national groups' efforts in the parliamentary elections in order to, "avoid mistakes of previous parliamentary and presidential elections of fragmentation of votes between several candidates of same civil trend."
Many attribute the failure of Egypt's secularists and liberals in previous elections to their inability to unite under common candidates. This allowed candidates under united Islamist movements, such as the Salafis or the Brotherhood, to easily snatch up votes, while votes for liberals and secularists were spread thin among many candidates.
"[Tamarod] representatives welcomed coordination [with NSF] in upcoming parliamentary elections," Alayli told Al-Masry Al-Youm adding that this is not the first form of cooperation between the two groups, as NSF has earlier allowed Tamarod access to their headquarters in the petition campaign to withdraw confidence from deposed President Mohamed Morsy.
Meanwhile, Shahin dispelled rumors of further infighting between the two groups. "All what's been said over conflicts between the movement and NSF, after the announcement to run for election, are no more than rumors," he affirmed.
Edited translation from Al-Masry Al-Youm