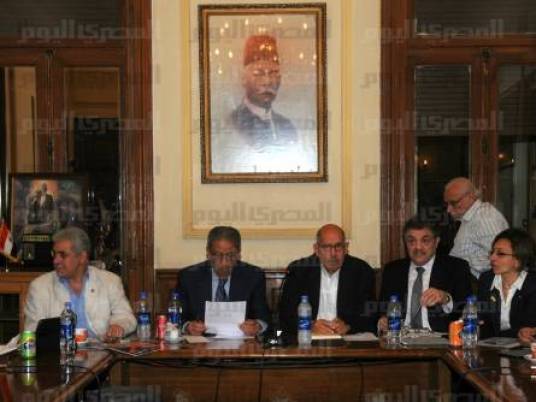 National Salvation Front (NSF) sources said they will rally citizens to take part in the upcoming constitutional referendum regardless of how they vote, although the front's parties previously supported the
"
yes
"
vote.
Posters are being printed to inform citizens about social and economic rights to facilitate an understanding of the new constitution. The sources added that the success of participation means the success of the constitution and hence the roadmap.
Front figure Waheed Abdel Meguid said, "the front will launch a campaign that includes holding conferences on several levels as well as door-knocking campaigns to inform people about the new constitution and explain its advantages from the front's perspective."
"The front will call on citizens to read the new draft constitution to build opinion regardless of those of the front's parties that support the 'yes' vote," he added, explaining that the front pays attention to rally people freely to support democracy.
"The front pays attention too to the use of minds and rejecting mobility for specific positive or negative vote," he said, noting that Egyptians are not herds to be directed to specific direction and that taking part in the referendum means voting on the roadmap.
The leftist Tagammu Party Spokesperson Nabil Zaki said, "Posters are being printed to express a simple and brief message to citizens to introduce the constitution."
"Eighty percent of eligible voters is the target," he added, expecting at least eight percent to vote yes and thereby deliver a message to the US, Qatar and Turkey, who he says support the Muslim Brotherhood. He expressed that the referendum on the constitution is the beginning of stability.
Meanwhile, Mahmoud al-Alayli, member of the Free Egyptians Party supreme body, said "the front leaders have collectively announced through their parties their support toward the yes vote considering that the success of rallying means the success of the constitution itself."
Edited translation from Al-Masry Al-Youm