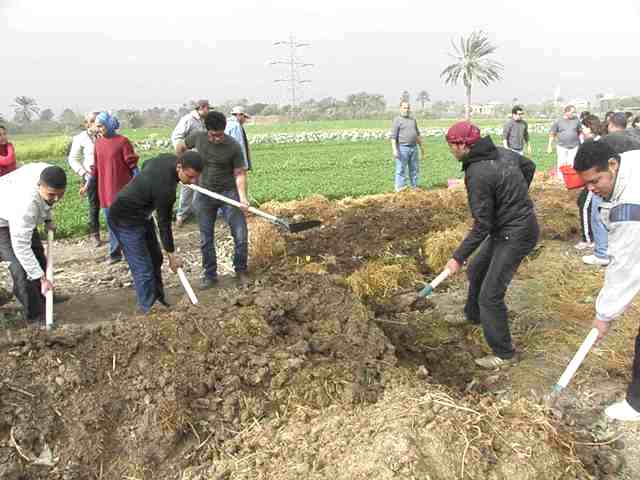 An Egyptian group on Friday hosted the first of a series of workshops intended to demonstrate to farmers and other participants how to implement sustainable agricultural systems and eco-buildings.
Nawaya ("intention" in Arabic) is an initiative launched by a team of young "green" Egyptians — Sarah al-Sayed, Adam Molyneux-Berry and Laura Tabet — who hope to develop sustainable, economically prosperous and agriculturally productive eco-buildings through enabling citizens to participate in creating their own such projects.
Permaculture "guru" Dominique De Bruin is now also part of the team. He preaches the creation of self-sustaining environmental and agricultural systems that mimic nature's cycles, with the goal of ultimately minimizing the need for external interference.
"Nawaya aims to demonstrate the advantages and strengths of self-sustaining ecosystems by building one all together step by step," says Molyneux-Berry.
At the Fagnoon art establishment in Saqqara, owner Mohamed Allam has donated a large piece of underdeveloped agricultural land on which the self-sustainable system will be built.
Friday's workshop focused on making compost — both small-scale in buckets for roof gardens and large-scale for farming establishments. However, the initiative's approach is a holistic one that teaches the essence of sustainable agriculture along the way.
Compost, a key ingredient in organic farming, is decomposed organic matter used to replenish and provide nutrients to impoverished soil. The soil used for the demonstration in Fagnoon had become malnourished, without balanced levels of sand, silt and clay. Compost was created to balance out these levels again.
"Compost is the seed of a sustainable ecosystem," says Dominique de Bruin. "It equals healthy soil, which equals healthy plants, which equals healthy people."
Every three weeks, a workshop will take place focusing on a different aspect of the development of the eco-village. Repeat courses will take place on the Fridays in between.
The next workshop, set to take place on Friday, 3 March, will focus on developing and using Effective Microorganisms, a liquid product that enhances organic matter's decomposition into healthy compost.
Other courses to follow will focus on biological water filtration, natural pest and disease control for crops, ensuring maximum water and energy efficiency, small animal and crop rotation systems as well as the principles of natural building and sustainable design.
"The idea we want to promote is that you have everything you need wherever you are," says Molyneux-Berry.
However, speakers at the workshop highlighted the importance of learning through experimentation on the ground.
Cairo balcony and rooftop farmers, as well as farmers from the Saqqara area, attended the Friday workshop. This is very important, according to Tabet, who says a large part of the initiative is to focus on rural extension, which is the application of scientific research and knowledge through educating farmers themselves. The attendance of local farmers will be encouraged in the coming weeks.
Many of the farmers left the workshop planning to develop and use compost on their own farms, and said they would return for the next workshop.
Being a nonprofit NGO, donations of LE100 were made on the day — local farmers were exempted, however. The donations will be used to invest in the land's development.
Over the course of many weeks, a training center will also be built onsite by architect Tarek Labib out of straw bale and super adobe. The center is intended to provide courses on sustainable agriculture.
This, together with the self-sustaining agricultural system, will become the eco-building demonstration plot that will act as the core and home of the Nawaya initiative.
"Eventually, the donated land will be a fully implemented demonstration of the value of our initiative that those interested can interact with and study at," says Molyneux-Berry.
The initiative is still in its early stages because it intends to build itself as it teaches, but in the coming weeks a website will be launched to provide instructional information and networking facilities.
The Nawaya initiative is currently being incubated by Nahdet Mahroussa until they obtain a license for their own NGO.