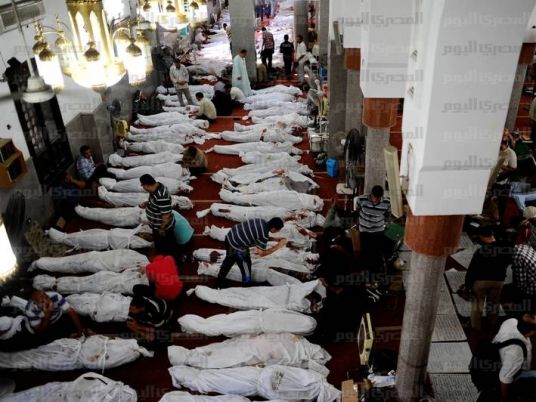 Mohamed Fayek, president of the National Council for Human Rights (NCHR), said at a press conference on Monday that the council's report on the dispersal of the Rabaa al-Adawiya Square sit-in indicates that the protest began peacefully but then armed elements were seen firing from inside the crowd.
Fayek hoped the report would be taken seriously by the media, research centers, human rights organizations and political parties and forces, especially that it includes all key aspects of a major incident of serious violation of human rights during the sit-in or during its dispersal.
"The incident will remain the subject of debate and controversy for a long time," he said. "We only tell the truth, which is the start of any transitional justice."
He said the report consists of eight sections, including the methodology of the Fact-Finding Committee and the bodies it has contacted for information, the international and local legal frameworks that regulate the dispersal of sit-ins and riots, the political background that led to the sit-in and its developments since its start on 28 June 2013 until its dispersal in August 2013, the violations that took place during the sit-in and during its dispersal, and the names of the protesters who died during the sit-in and the cause of their death.
"We sent a copy of the report to the president, the prime minister, the ministers of interior and foreign affairs, the prosecutor general and the head of the fact-finding committee that was formed by the president," he said, denying any split within the council over the report.
The report recommends an independent judicial inquiry into the facts contained in it, accountability of those responsible for any violation, and prompt measures by the government to prevent violence in society and protect it from risks. It also calls on the media to stop discourse that incites violence and hatred.
He said the council is issuing more reports about other issues that took place last year, including attacks on churches, the Kerdasa Police Department massacre, and the prisoners who died in a deportation van.
The report, a summary of which was released on 5 March, says the sit-in caused a split within society and left 632 people dead, 1492 injured and nearly 800 arrested.
Edited translation from Al-Masry Al-Youm