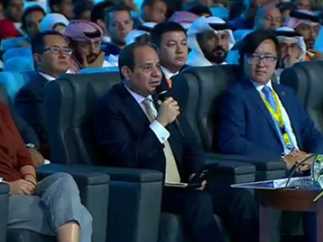 Human rights activists and members of the House of Representatives welcomed President Abdel Fattah al-Sisi proposal to form a committee and conduct social dialogue on the NGOs law and that the concerned authorities re-submit the law to the House of Representatives.
Sisi's consent to amend the law came during a session for the World Youth Forum being held at the Red Sea resort city of Sharm el-Sheikh from November 3-6.
In May 2017, Sisi ratified a new law to regulate the work of non-governmental organizations (NGOs) in Egypt. Parliament had approved the law in January 2017.
The law has been criticized for imposing restrictions on the work of NGOs, whether human rights organizations or entities that work in the development field. Activists said the law imposes harsh punitive measures on violators of its articles, reaching up to five years in jail and financial fines up to LE 1 million.
Mohammed al-Ghoul, a member of the Human Rights Committee of the House of Representatives, suggested that his committee should form committees with all concerned parties associated with the civil associations in order to listen to all different points of view and propose amendments to controversial articles of the law.
Heba Hagras, a member of the Social Solidarity Committee, said that her committee will begin listing the controversial articles or those difficult to put into practice.
MP Ahmad al-Tantawi, a member of the 25-30 Bloc in the House of Representatives who has previously objected the bill, said that the crisis of this law is that it has deviated from the legal and logical rule governing that "the suspect is innocent until proven guilty." He added that his bloc will submit amendments that represent the bloc's objection to the law.
President of the National Council for Human Rights Mohamed Faik said, "We want a law that meets the needs of civil society and allows them to operate without restrictions. The most serious thing in the current law is that it imposes severe restrictions even on thinking."
Head of the Ecumenical Alliance for Human Rights and Development (EAHRD) Ayman Nasri said, "This step confirms Egypt's commitment to implement the recommendations made by the UN Human Rights Council to facilitate the work of the organizations (NGOs) and to respond unequivocally to some politicized reports that claimed that the political administration desires to eliminate the work of NGOs in Egypt."
Edited translation from Al-Masry Al-Youm