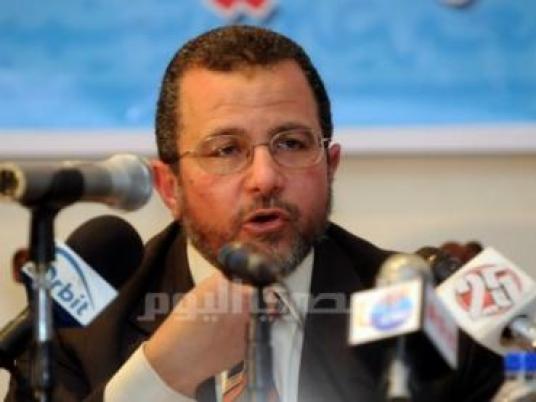 The new Cabinet presided over by Prime Minister Hesham Qandil was sworn in today by President Mohamed Morsy at the presidential palace in Heliopolis.
As Qandil had confirmed earlier on Thursday in a press conference, head of the Supreme Council of the Armed Forces Field Marshal Hussein Tantawi will continue to serve as minister of defense, while Momtaz al-Saeed also retained his position as finance minister.
Other ministers who will stay on in the new government include Foreign Minister Mohamed Kamel Amr, Antiquities Minister Mohamed Ibrahim Ali, Military Production Minister Ali Ibrahim Sabry, Social Affairs Minister Nagwa Khalil and Scientific Research Minister Nadia Zakhary.
Morsy's government includes four new ministries, including the Ministry of Water and Sewage — which is a separate entity from the currently existing Ministry of Water and Irrigation — and state ministries for youth and sport. The State Ministry of Investment that had been dissolved after the fall of former President Hosni Mubarak will be reinstated.
State-owned MENA news agency said that Civil Aviation Minister Samir Imbaby was not sworn in today because he is currently out of the country.
The other new ministers include:
Minister of Environment, Mostafa Hussein
Minister of Local Development , Ahmed Zaki Abdeen
Minister of Water and Sewage, Abdel Kawi Khalifa
Minister of Culture, Mohamed Ibrahim Arab
Minister of Local Development, Osama Saleh
Minister of Education, Ibrahim Ahmed Ghoneim
Minister of Electricity and Power, Mohamed Balba
State Minister for Parliamentary Affairs, Mohamed Mahsoub
Minister of Interior, Ahmed Gamal Eddin
Minister of Tourism, Hesham Zaazou
Minister of Agriculture, Salah Abdel Momen
Minister of Communications and Information Technology, Hani Mahmoud
Minister of Petroleum, Osama Kamal
Minister of Transportation, Mohamed Rashad Nasr
Minister of Water Resources and Irrigation, Mohamed Baha-Eddin Saad
Minister of Housing, Tarek Wagih
Minister of Higher Education, Mostafa al-Sayed Mosad
Minister of Supply and Internal Trade, Abu Zeid Mohamed
Minister of Manpower and Immigration, Khaled al-Azhary
Minister of Endowments, Talaat Afify
Minister of Planning and International Cooperation, Ashraf Abdel Fatah
Minister of Health and Housing, Mohamed Mostafa Hamed
Minister of Communications and Information Technology, Salah Abdel Maqsoud
Minister of Industry and Foreign Trade, Hatem Abdel Hamid Mahmoud Sadek
Minister of Youth, Osama Yassin
Minister of Sports, Al-Amry Farouk
Minister of Justice, Ahmed Mekky
Minister of Civil Aviation, Samir Imbaby