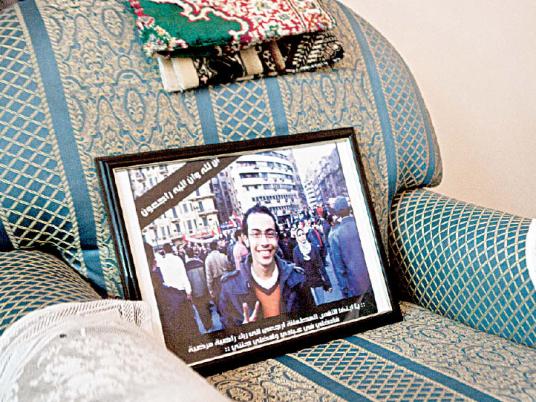 The prosecutor general's office heard testimony Thursday from a member of a Justice Ministry committee that issued a new report this week on the death last month of activist Mohamed al-Gendy. The report does not rule out torture as a possible cause of death, as a previous report did.
Deputy Chief Medical Examiner Mahmoud Ali, who wrote up the tripartite committee's report, said the new report ruled out the possibility of death in a car crash, but stressed that examiners were unable to determine the cause of death.
Ali said Gendy's injuries show him to have hit his head or to have been beaten. He added that the committee could not technically prove that Gendy's injuries resulted from torture.
Mohamed Moneeb, the Gendy family's lawyer, said Wednesday that the committee's report opens the door to a new investigation, given that the first report on Gendy's death had ruled out torture as a possible cause.
Nabil al-Gendy described the report on his son's death as a "stepping stone to punishing the killers." In statements to Al-Masry Al-Youm Thursday, he said, "Torture marks were very clear. The first report was politicized and the Interior Ministry played a chief role in putting it together."
"I will not give up until I see the one who tortured him beaten to death," Gendy's mother said.
The leftist Popular Current movement said it found Gendy, a member, on 31 January — after he was missing for four days — at Al-Helal Hospital in downtown Cairo. It said in a statement that his body showed clear signs of torture.
Gendy died last month at the same hospital where he was receiving treatment for injuries. Earlier medical reports said he was run over by a car. His family accused police of torturing him to death.
Edited translation from Al-Masry Al-Youm