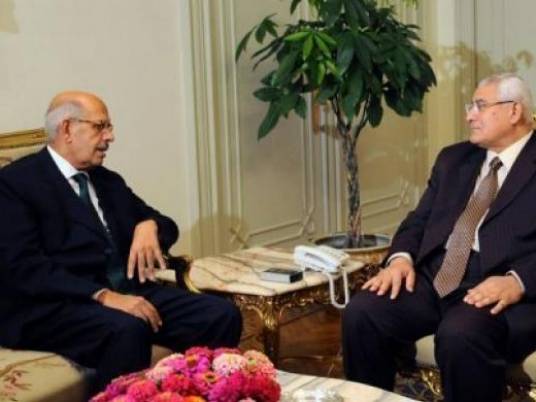 New governors were sworn in Tuesday before interim President Adly Mansour in the first governors' reshuffle since the overthrow of Egypt's former president, Mohamed Morsy.
New governors were appointed for 20 provinces. The governors of Monufiya and the Red Sea are yet to be declared. The Red Sea governor, Tarek al-Mahdy, has been appointed for Alexandria, while the Monufiya office remains vacant.
The list of the new governors is as follows:
Alexandria: Tarek al-Mahdy. Formerly a member of the Supreme Council of the Armed Forces (SCAF), under whom he was appointed at Maspero to oversee the running of state TV and radio, Mahdy also served as governor of New Valley. He fought in Egypt's 1973 war with Israel. In July 2011, Mahdy was stopped by protesters from speaking in Tahrir Square.
Assiut: Ibrahim Hammad.
Aswan: Yousry al-Sayyed Atallah. A former director of the Air Defense Academy.
Beheira: Mostafa Kamal Abdel Basset.
Beni Suef: Mohamed al-Betity.
Cairo: Galal al-Saeed. A former transport minister in Kamal al-Ganzouri's December 2011 cabinet.
Damietta: Mohamed Mansour.
Daqahlia: Omar a-Shawadfy.
Fayoum: Hazem Attiyat Allah.
Gharbiya: Mohamed Naeem.
Giza: Ali Abdel Rahman (previously held position).
Ismailia: Ahmed al-Qassas.
Kafr al-Sheikh: Mohamed Agwa.
Luxor: Tarek Saad al-Din. An army officer and trained engineer, Saad's last position was at the head of the Tourism Development Authority from May 2011, his first civilian post.
Matrouh: Badr Tantawy Badr Ghandour (previously held position). A former director of the Egyptian army's cyber warfare department.
Minya: Salah Eddin Ziyada.
New Valley: Mahmoud Khalifa (previously held position). An army general.
North Sinai: Abdel Salam Harhour.
Port Said: Samah Qandil (previously held position). An army general.
Qalyubiya: Mohamed Abdel Zaher.
Qena: Abdel Hamid al-Haggan.
Sharqiya: Saeed Etman.
Sohag: Mahmoud Ateeq.
South Sinai: Khaled Fouda.
Suez: Al-Araby Ahmed Youssef.
Nine new deputies have also been appointed to the governors of Beheira, Sharqiya, North Sinai, Giza and Cairo.