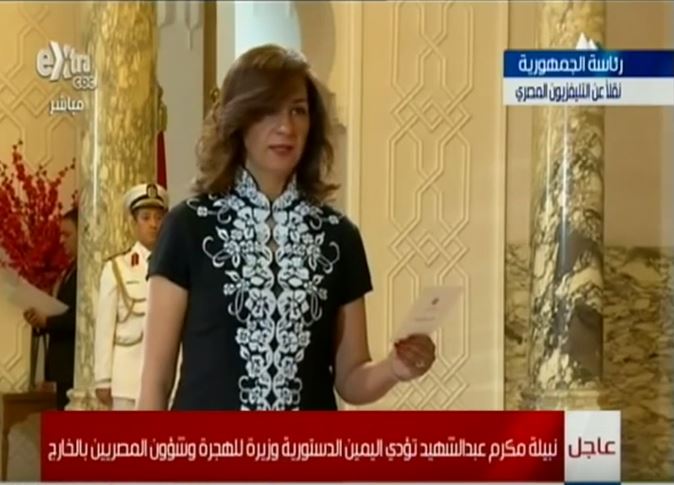 Egypt's newly-appointed Minister of Immigration and Egyptian Expatriates Affairs Nabila Makram said she has reservations on dealing with the Intenational Organization for Migration, adding that the international body has to work within the framework of Egyptian laws.
"We have some reservations concerning the IOM," the minister told Al-Masry Al-Youm. "That said, we will coordinate that matter with the Foreign Affairs Ministry, and the IOM is required to operate based on Egyptian laws."
Egypt has been an IOM member state since 1990.
Makram lauded the presidency's decision to add a separate ministry for expatriates affairs, although she commented that the measure "came too late".
Makram said the ministry will act as the main point of communication between the government and expatriates and will work to "eliminate any hurdles" Egyptians face abroad, most notably passport renewals.
"It will generally address the needs of citizens abroad, in addition to handling the serious phenomenon of illegal immigration by Egyptians, especially to Italy, the main gate to Europe. That process has to be legalized," said Makram.
When asked how illegal immigration could be curbed, Makram replied: "We have to exert more effort in the field of promoting awareness among people that the countries they are heading to are not goldmines."
The minister said she supports asking countries targeted by illegal immigrants to legalize entry and residency. "That would form a burden on those governments, but, we would love to demand it," said Makram.
The minister stated that there is no exact count of Egyptians abroad, arguing that the suggested number of 12 million is still not accurate given that there are thousands who migrate illegally. "Between 2007 and 2011, 64,000 Egyptians migrated to Italy through legal channels. If we add illegal immigrants, that number could double."
Edited translation from Al-Masry Al-Youm