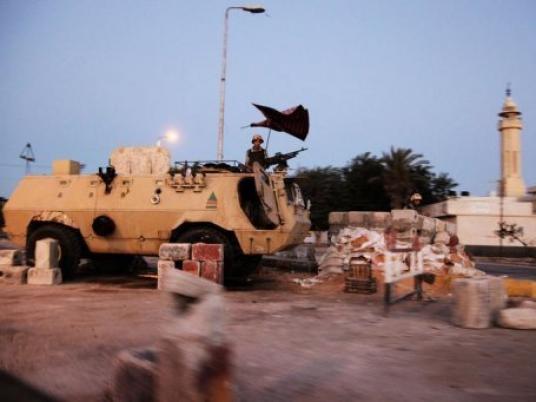 Gunmen opened fire at a security checkpoint in the Rayesa neighborhood on the Arish — Rafah international road on Sunday, the first day of Eid al-Fitr. No casualties were reported among the forces present.
Security sources said that gunmen in an SUV surprised the forces at checkpoint, east of Arish, and fired at them. They said the sources returned fire, and the attackers fled into the desert south of Arish.
The checkpoint has been the site of repeated attacks by unidentified armed men throughout the last year.
Major General Sidqy Sobhy, the chief of staff of the Armed Forces, arrived in Arish on Sunday to follow up on the on-going military operation there.
"Operation Eagle" is an attempt by the Egyptian military to locate gunmen who attacked a checkpoint near the Rafah boarder crossing. The attack, earlier this month, killed 16 Egyptian soldiers and wounded seven. The outcome and success of the operation remain unknown, despite repeated reports from the Egyptian military that suspects were killed and others were arrested during the raid.
At the headquarters of one of the battalions of armed forces in Arish, Sobhy was received by troop leaders and security authorities in North Sinai.
Military sources pointed out also that the commander of the Air Force, Major General Younis al-Sayyed Hamed will arrive in Arish later on Sunday.
Edited translation from Al-Masry Al-Youm