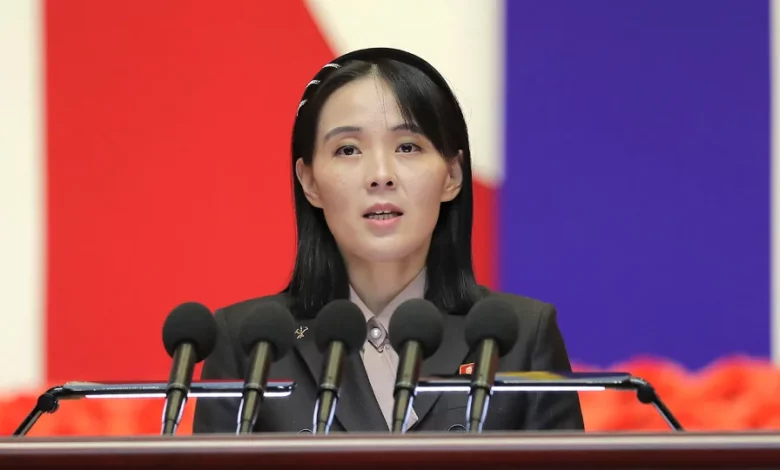 The influential sister of North Korean leader Kim Jong Un has hit back at a key agreement made between the US and South Korea, claiming it will only serve to worsen security.
Washington and Seoul made a pact at the White House on Wednesday that aims to deter North Korean aggression, including a new US commitment to deploy a nuclear-armed submarine in South Korea for the first time since the early 1980s.
In comments on state-run KCNA, Kim Yo Jong slammed the deal as a "typical product of their extreme anti-North Korean hostile policy, reflecting the most hostile and aggressive will of action.
"As such, it will only result in making peace and security of northeast Asia and the world be exposed to more serious danger, and it is an act that can thus never be welcomed."
She criticized President Joe Biden for his statement that any nuclear attack against the US and its allies will result in the end of the North Korean regime, condemning it as a "nonsensical remark from the person in his dotage."
She labeled South Korean President Yoon Suk Yeol a "fool."
Her comments mark the first response North Korea has made to the security pact.
Biden and Yoon met this week, with the United States pledging to give South Korea more insight into its nuclear planning over any conflict with North Korea.
The product of months-long discussions between officials from both countries, the new agreement says that the US intends to "take steps to make our deterrence more visible through the regular deployment of strategic assets, including a US nuclear ballistic submarine visit to South Korea," a US official said.
Officials made clear that such assets will not be stationed permanently, and there is "no plan" to deploy any tactical nuclear weapons to the Korean peninsula.
In a joint news conference at the White House, Biden hailed what he called the "ironclad" alliance between the two countries.
The president also offered a stark warning to Kim. "A nuclear attack by North Korea against the United States or its allies and partners is unacceptable, and will result in the end of whatever regime were to take such an action," Biden said.
Kim Yo Jong, the younger sister of Kim Jong Un, is a powerful figure in North Korea after she was promoted to the nation's top decision-making body in September 2021.
She is believed to be one of her brother's most trusted confidantes. South Korea's National Intelligence Service previously assessed her to be the country's "de facto second in command."
CNN's Betsy Klein, Kyle Atwood and Sam Fossum contributed reporting.