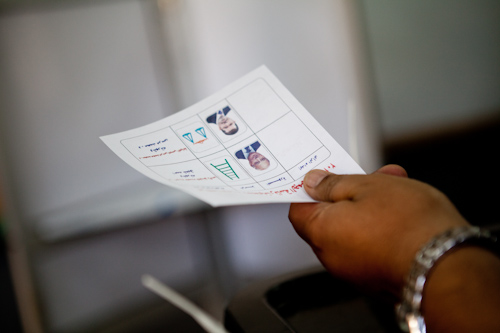 The National Salvation Front said Wednesday that parliamentary elections cannot go ahead unless the government issues new voter electoral lists and offers concrete guarantees the polls will be free and fair.
The main opposition coalition made the announcement ahead of its first roundtable with Islamic parties, including the Nour Party, Strong Egypt Party, Egypt Party and Reform and Development Party on Saturday.
In a statement after a meeting at the Free Egyptian Party headquaters, NSF members expressed their concern about possible manipulation of voters' lists, a complaint that is being reviewed by the State Commissioners Authority.
The NSF also welcomed the resignation of Justice Minister Ahmed Mekky.
Sameh Ashour, head of the Lawyers Syndicate and a member of the coalition, said Mekky's resignation happened too late and cannot be taken back. He congratulated the public on forcing Mekky's hand by putting pressure on the judiciary.
Ahmad Fawzi, secretary general of the Egyptian Social Democratic Party, said the NSF has developed an integrated vision for the roundtable, including mechanisms to ensure elections integrity and solutions to end the political and economic crisis Egypt is embroiled in.
It also has outlined strategies to deal with national security issues and the Gaza-Egypt border that still support Palestinians.
Mounir Fakhri Abdel Nour, a leading member of the Wafd Party, said that the NSF also plans to submit a draft elections law to the Shura Council on Thursday.
Edited translation from Al-Masry Al-Youm