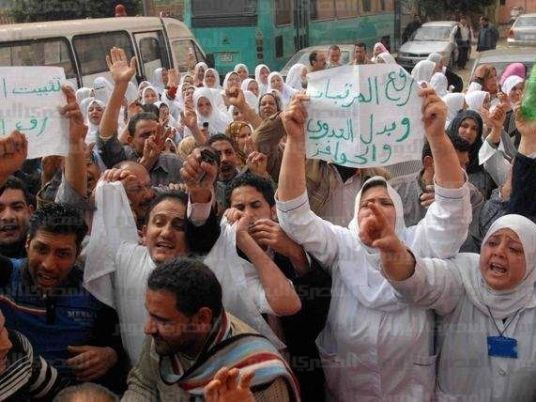 Kawthar Mahmoud, chief of the nursing sector, filed a report to Public Prosecutor Hesham Barakat on Thursday accusing the 'Nursing Tamarod' movement of defaming the syndicate and destabilizing its work. The movement has stated demands that are not part of the syndicate's platform, such as infection allowance and increasing wages for staying up in hospitals and nursing cadres.
She added that such issues are related to the Health Ministry.
The report added that the movement published an ad in a state-run newspaper calling for a general assembly, without notifying the syndicate or authorities in question. The movement, however, is not authorized to represent syndicate members.
Mahmoud called on the prosecution to take the necessary measures needed against the movement.
Emad Abdel Shafi al-Dabaa, the syndicate's legal advisor, said it is illegal to hold a general assembly, such as what the movement called for, in order to withdraw confidence from the syndicate board. He added that the administrative court approved the syndicate's challenge against convening the assembly on Wednesday.
Dabaa told Al-Masry Al-Youm that the syndicate dismissed the movement's lawyer over accusations of receiving money from some nurses to help return them to work.
Edited translation from Al-Masry Al-Youm