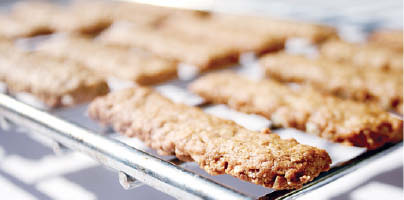 Habiba Omar's son is "a horrible eater," she says. At a year and a half, he would only eat biscuits and snacks, refusing fruits and vegetables entirely.
The need to keep her son healthy pushed Omar to explore out-of-the-box options to ensure that her son was getting food with nutritional value. That's when Nibblies, Omar's home-cooking business, was born.
Omar offers snacks and desserts, all made with nutritious ingredients. The vegetable and chicken nuggets and the oatmeal cookies are the most popular.
The oatmeal cookies are five crunchy oatmeal cookies, also available with banana or ginger flavors. The nuggets come in packs of six, either star-shaped chicken or vegetable.
In the name of research, Nibblies came into my home in an effort to alleviate morning lunchbox preparation drama.
Adding a brownie to my 5-year-old's lunchbox was a much easier decision knowing it was made of spinach. Brownies with spinach may sound odd, but with a combination of blueberries and dark chocolate, the spinach taste is thoroughly masked.
Nibblies' cookies are sold in packs.
The portions may seem small, but the nutrients make them rich and filling. Nibblies also offers lemon and apple-carrot cookies.
Omar usually bakes her cookies with honey and brown sugar, and occasionally with a small amount of white sugar. To remain nutritious, most of the snacks have hidden fruits, vegetables and other ingredients.
Ingredients are written on the menu, but it is still best when ordering to clarify any allergy you or your child may have.
A small jar of pumpkin spread can be a lifesaver for children who insist on having a Nutella sandwich for school. The sweetness of the pumpkin spread on brown bread is an equally pleasing and more nutritious option.
Nibblies also offers sweet potato cookies and sweet potato brownies. The warmth of the root vegetable makes a tasty snack for chocolate lovers.
Delivery days are limited to Monday in 6th of October, Tuesday in Mohandiseen and Zamalek, and Wednesday in Maadi, Heliopolis and Nasr City. Pickup orders can be made anytime, by phone or on the Nibblies Facebook group.
The snacks arrive tasting fresh, and need to be properly stored at room temperature or refrigerated to remain so. Keep your snacks out of intense heat to keep them fresh for the week, which is the expiry date for most of Nibblies' products.
This piece was originally published in Egypt Independent's weekly print edition.