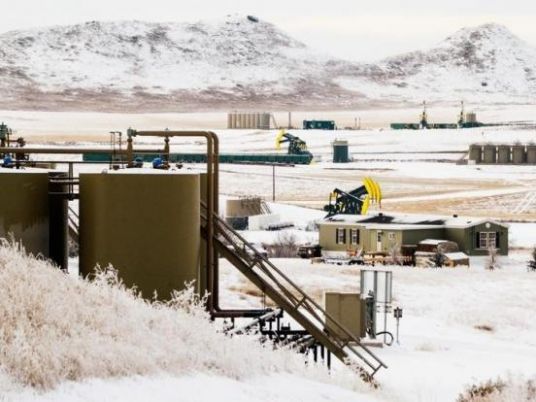 Oil rallied on Monday as Canada's most destructive wildfire in recent memory knocked out over a million barrels in daily production capacity, but caution among investors prevented a return to late April's 2016 price highs.
The lost capacity is equivalent to well over a third of the country's typical daily production, and almost all of Canada's crude from oil sands is exported to the United States.
US crude futures rose 91 cents to US$45.57 a barrel by 0910 GMT, up for a fourth day in a row, while Brent crude futures rose 72 cents to $46.02 a barrel.
The fire, which broke out on May 1, has forced three major oil firms to warn they will be unable to deliver on some contracts for Canadian crude.
The impact of the production loss has been far more marked in the US crude market, where prices for West Texas Intermediate oil for delivery in July are now above those for Brent.
Investors now hold more bets on a rising oil price than at any time in history, which analysts say might mean there is less scope for Brent to rally after having gained 25 percent in a month.
"Positioning has been already very stretched in the oil market … Some must have taken the opportunity to exit, so that's one angle that momentum is slowing down," Barclays Capital commodities strategist Miswin Mahesh said.
"There is a slight fear that prices have recovered too quickly, and we risk repeating the same price trajectory seen around Q2 2015, where the rally slowed down the market balancing process," he added.
Canadian officials on Sunday showed some optimism as favorable weather helped fire fighters, driving the flames away from the oil sands town Fort McMurray, but there was no timeline for a restart of operations at evacuated sites.
"The market is close to balanced … when we consider the large amount of supply offline in Canada and elsewhere, which could last for months," Morgan Stanley said.
US shale oil output is in decline and production is also falling in Latin America, Asia and Nigeria, eroding a one to two million barrels per day supply overhang that pulled down oil prices by 70 percent between 2014 and early 2016.
Markets were also watching Saudi Arabia, the world's biggest oil exporter, where a government shake-up over the weekend included the appointment of Khalid al-Falih as head of the new Ministry of Energy, Industry and Mineral Resources.
"Changes in Saudi Arabia oil leadership only underscore the shift in strategy to one focused on market share over price," Morgan Stanley said.