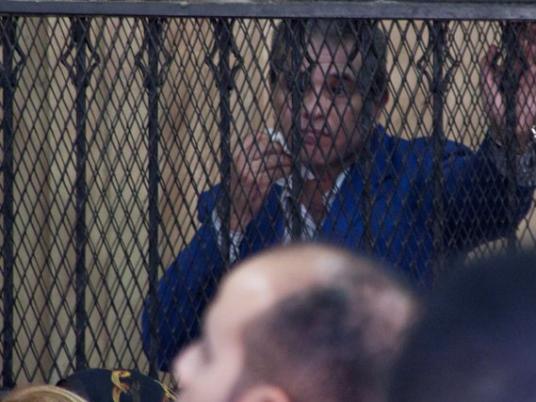 Tawfiq Okasha was sentenced to four months in prison on Monday for defaming President Mohamed Morsy.
The Esna Court in Luxor Governorate, about 700 km south of Cairo, delivered the sentence, which also included an LE1,501 fine. Okasha, a talk show host and head of the privately-owned Al-Faraeen satellite channel, was not present for the verdict.
The charges against Okasha were filed by Nasr Eddin Mahmoud Moghazi, a Freedom and Justice Party member and former member of the dissolved People's Assembly. Moghazi accused Okasha of defaming Morsy on his show Egypt Today, which is now off the air.
Mohamed al-Batiti, the lawyer for the plaintiff, told Al-Masry Al-Youm that the court based its verdijct on Article 179 of the Penal Code, which criminalizes the libel of any state figureheads.
The state-run Al-Ahram newspaper said that close to 30 cases have been filed against Okasha over his harsh criticisms of the Morsy administration.
Weeks after Morsy took office, Okasha said that his presidency was illegal.
Al-Faraeen channel was suspended on temporarily 16 August due to such comments, with authorities threatening to revoke the channel's license altogether if it didn't change its programming.
After Okasha filed a countersuit on Saturday, a court ordered the government to allow Al-Faraeen to resume broadcasting within 24 hours.
Despite the ruling, Al-Fareen has still not resumed broadcast, but a source at the satellite company Nilesat claimed that this is due to financial reasons, not government pressure.
Nilesat welcomes broadcasting the channel, the source alleged, if Al-Faraeen can pay up on over a year's worth of debt, which has now reached LE1.25 million (US$207,000).
Okasha is still facing criminal charges in another case, again on charges of defaming Morsy and inciting his assassination. Those trial proceedings are set to resume on 7 November.
Edited translation from Al-Masry Al-Youm