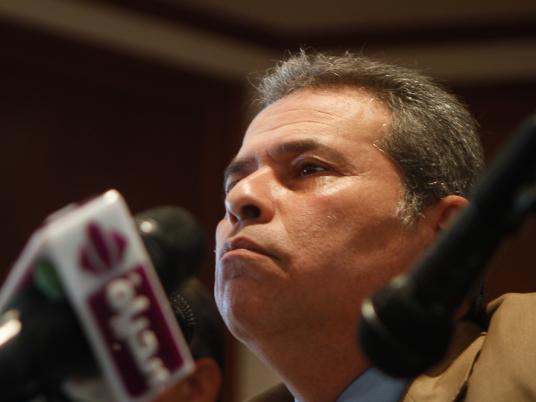 Member of parliament and media figure Tawfik Okasha claimed on Tuesday that President Abdel Fattah al-Sisi was ultimately responsible for preventing him delivering a speech to parliament on Monday, fearing that he might make comments that undermine the president's authority.
In a video posted online by Parlmany — a Youm7 service focused on parliament-related news — Okasha argued that Abdelaal "had received instructions from President Abdel Fattah al-Sisi" to block his attempts to deliver a speech.
During the session, Okasha asked for permission to address the chamber, but his request was refused by Abdelaal, sparking an altercation between them that ended with Okasha leaving the chamber.
The incident followed Okasha's press statements on Sunday urging early presidential elections, fresh parliamentary elections and the removal of Prime Minister Sherif Ismail's government.
Asked why he thinks he was not allowed to address parliament, Okasha replied, "I am popular with the public, but they want only one person to be loved — President Sisi."
Okasha also dismissed reports that he was removed from the chamber after a vote by MPs, saying that Ali Abdelaal had suggested a vote on the matter but MPs refused to take part.
"The House refused to vote on the decision," said Okasha.
Okasha, a former owner of Al-Faraeen satellite channel, has long been a vocal supporter of Egypt's 2011 uprising. He also supported the rise of Sisi to the post of president from 2013, but has become more critical of him and the government since the new parliament convened in January.
He told the privately-owned website al-Tahrir recently that he deliberately did not attend Sisi's address to parliament on February 13 in protest at having been refused a personal audience with Sisi.
"I am a citizen brought [elected] by the people… My request should have been approved, being a representative of the people" said the MP.
According to independent news website Masrawy, Okasha described the current government as "incompetent", a fact that was illustrated, he said, by the drop in the value of the Egyptian pound relative to the US dollar.
He made headlines when parliament convened in January by claiming that certain parliamentary blocs were backed by sections of the Egyptian security apparatus.
He also staged a sit-in protesting against the draft civil service law, an unpopular bill on government employment that was later voted down by MPs.
Okasha has also become a popular target of ridicule, particularly by supporters of the 2011 uprising, for his exotic branch of political analyses and provincial accent.