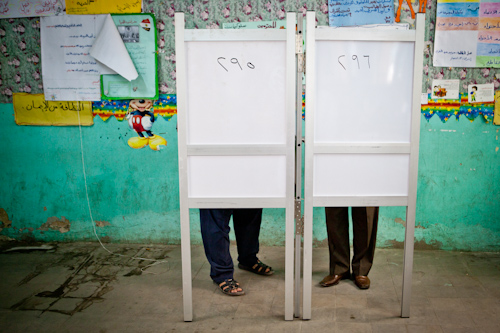 Amid a fluctuating turnout and a number of legal violations, polling stations opened their doors on Wednesday to more than 50 million eligible voters in Egypt's much-anticipated post-revolution presidential elections.
Egyptians are expected to choose their next president out of 11 candidates today and tomorrow and potentially put an end to a 15-month period of military rule. The outcome of the poll is unpredictable, with five viable candidates including the Muslim Brotherhood's Mohamed Morsy, moderate Islamist Abdel Moneim Abouel Fotouh, Nasserist Hamdeen Sabbahi, former Arab League Secretary-General Amr Moussa, and Hosni Mubarak's last Prime Minister Ahmed Shafiq.
Until late afternoon, many observers sensed a smaller turnout compared to last year's legislative elections, in which about 54 percent of Egypt's registered voters went to the polls. When Egypt Independent spoke to Hafez Abou-Saeda, the secretary general of the Egyptian Organization for Human Rights (EOHR) at 3:30 pm, he said that the turnout in Cairo, Alexandria and Daqahlia was the highest, ranging from 40 to 50 percent. "However, it did exceed 25 percent in other provinces," said Hafez, whose organization, along with 127 other groups, is monitoring the poll in 22 out of Egypt's 27 provinces.
Yet, as soon as the sun set and the heat waned, the turnout increased significantly. "The turnout increased only in the last two hours before the polling stations closed," Tareq Zaghloul, another EOHR leader, told Egypt Independent later. "Most working voters went to work during the day, returned home to rest and then went to vote," he explained. The influx of voters prompted the Presidential Elections Commission to extend voting hours until 9 pm from 7 pm.
Most candidates' campaigns released statements estimating their rank in the race after today's poll. A Moussa campaign exit poll reportedly suggested that Morsy was in the lead and Moussa had come in second, while Abouel Fotouh's campaigners said that their exit polls showed that their candidate, Morsy and Shafiq are rising as front runners
Zaghloul dismissed these claims as "attempts to attract more votes and intimidate each other's contenders."
He argued that it is "very difficult" to get a sense of the results given the low turnout and voters' divide over candidates. "In most polling stations, people were all voting for different candidates," he said.
In Cairo's working-class neighborhood of Basateen, tens of men and women lined up outside Shagaret al-Dor Primary School waiting to cast their ballots. The divide was quite clear between voters who back former statesmen — Shafiq and Moussa — for the sake of stability, those who are disillusioned with the Muslim Brotherhood and fear their hegemony and finally those who still bet on the nation's largest Islamist political organization.
Mahasen Gamil mumbles the name of her candidate, possibly for fear of arousing the wrath of fellow voters. "Ahmed Shafiq," said the 43-year-old housewife a few minutes before walking into the polling station to back a candidate who is stigmatized in political circles for serving in Hosni Mubarak's regime.
"That does not bother me," she said. "There is nothing called remnants of the old regime. I should only care about the candidate's persona, history, and whether he was proven guilty of anything."
"The country should not be ruled now by some inexperienced president," she added. We need a president who "is capable of controlling the country."
In the next line, Ghada Mohamed, a 43-year-old English teacher, is voting for Moussa for similar reasons. "We don't want someone to experiment with the presidency. Moussa has his flaws but he is the lesser of all evils," said the woman wearing a grey head scarf emblazoned with pink flowers.
Her choice is also influenced by her disenchantment with the Brothers, whom she backed in the parliamentary poll.
"I felt I would be obeying God by backing a group that says it will follow God's laws. But I found out that they only follow their personal interests," she said.
Mohamed is one of many voters who felt alarmed by the preliminary results of the overseas vote, which placed Morsy at the forefront of the race. Abouel Fotouh rose as the first runner-up. If the domestic vote follows the same pattern, the run-off scheduled for 16 and 17 June will be held between Morsy and Abouel Fotouh.
"I want someone who belongs neither to Islamists nor to the old regime," said Afaf Abdel Aziz, a 55-year-old accountant, while waiting in line planning to mark her ballot in favor of Sabbahi.
The 59-year-old journalist is also "a new and young face and he has a good platform," she said.
But as soon as Dawlat Ibrahim, a 48-year-old illiterate housewife, approached admitting that she is backing Morsy, Abdel Aziz turned her head away.
"I want someone who would not do us any injustice and would fear God," Ibrahim told Egypt Independent.
"The Brothers do not cause injustice to anyone," contended the woman wearing a brown veil reaching down to her knees and covering most of her black robe.
Later on, Fahima al-Guendy, a clerk with a private company, joined the line in her black robe and grey niqab.
"I want a president who can implement God's laws and spread justice and equality," the 57-year-old woman told Egypt Independent. "Now we only have two candidates [who say that they will implement God's Sharia]: Abouel Fotouh and Morsy."
"I don't belong to the Brothers but I will vote for Morsy," she said, adding that the latter is more unequivocal on Sharia than Abouel Fotouh.
Had Hazem Salah Abu Ismail been in the race, Guendy would have voted for him.
"I used to like Abu Ismail because he is direct," said the woman, who believes an "American conspiracy" stands behind Abu Ismail's disqualification.
Several candidates violated the campaign blackout in many provinces. Abouel Fotouh campaigners erected a booth bearing the candidate's photo outside a polling station in the Alexandria area of Ezbet al-Mattar, while Morsy campaigners bussed voters in and drove them to their respective polling centers in the Mediterranean city. They also gave fast food meals out to voters.
In Suez, Morsy's and Sabbahi's backers rallied to persuade voters to vote for their respective candidate before they cast their ballots. In the Delta province of Kafr al-Sheikh, Moussa campaigners had reportedly given out LE150 and a meal to voters in return for their votes. In response to violations, seven supporters of Morsy, Shafiq and Abouel Fotouh were arrested for violating the campaign ban.
Monitors noted other irregularities, including a delay in opening polling stations and denying observers entry during the early hours of the day.
The vote counting is set to kick off on Thursday evening as soon as voting hours end.