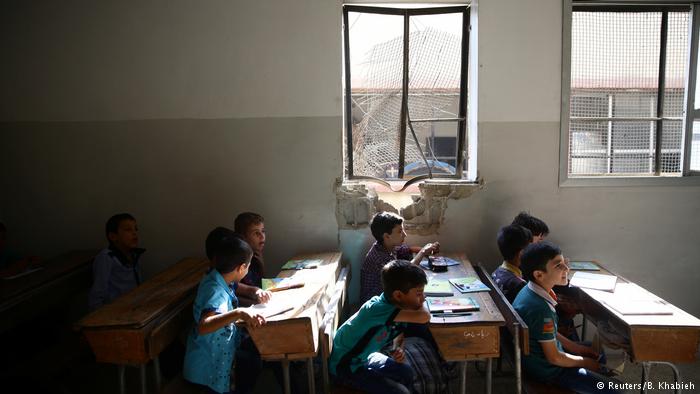 The number of children living in conflict zones has risen by 75 percent from the early 1990s, Save the Children reports. The charity says youngsters in the Middle East and Asia are most affected.
In a report published on Thursday, global charity Save the Children says that there are more than 357 million children living in war and conflict zones, an increase of roughly 75 percent from the early 1990s.
Around half of those affected — 165 million children — live in "high-intensity" conflicts. Youngsters in the Middle East are most likely to live in an area classed as a war-zone, with two in five children living within 50 kilometers (31 miles) of a "conflict event." Africa was ranked as second-most dangerous region.
With regard to individual countries, Syria, Afghanistan and Somalia topped the list of the most dangerous countries for children. Other hotspots include Myanmar, Bangladesh, Iraq and Yemen.
There has been a marked increase in the killing and maiming of children. Since 2010, the number of UN-verified cases of has gone up by almost 300 percent.
Increased urbanization key factor
The report blames several factors for the overall increase. It says conflicts today tend to be protracted and are often fought in densely populated areas, with "attacks on what should, by any law or civilized standard, be safe places for children — such as schools and hospitals — also becoming a new normal in conflicts," said Save the Children CEO Helle Thorning-Schmidt.
Save the Children also says that "increasingly brutal tactics are being utilized" abusing children as suicide bombers and targeting kids in schools and hospitals as well as using so-called indiscriminate weapons like barrel bombs and cluster munitions.
Apart from the conflicts themselves, children are affected by increasing displacement, with more than 65 million people around the world without a permanent home.