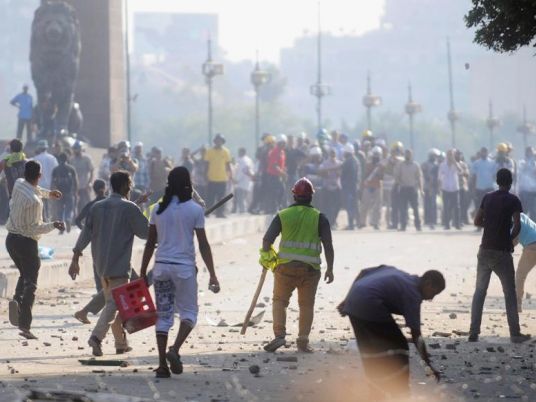 One woman was killed in the Cairo neighborhood of Ain Shams on Friday as a protest supporting ousted Islamist President Mohamed Morsy turned violent.
Hisham Abdel Hameed, the Forensics Authority spokesman, told Aswat Masriya the female victim died due to a gunshot to the chest.
The pro-Morsy National Alliance to Support Legitimacy (NASL) said the woman was shot by security forces while marching in Ain Shams. The coalition comprises of political movements supportive of Morsy, most notably by his Muslim Brotherhood.
The Ministry of Interior said it arrested 35 "rioters" following nationwide protests orgsanised by the Muslim Brotherhood in a statement on Friday.
In Qalyubia, the ministry said it arrested 14. It also arrested five in Beheira, seven in Assiut, two in Minya and seven in Giza. Molotov cocktails, birdshot guns, a motorbike and a car were among the elements confiscated at the time of the protesters' arrest.
NASLf has been holding protests denouncing the current regime since Morsy's ouster in July 2013 almost on a weekly basis. Protests usually devolve into violent clashes, especially on Fridays.
The coalition is calling for a partial strike starting 30 August as a form of protest, in preparation for a mass civil disobedience movement, it said in a Friday statement.