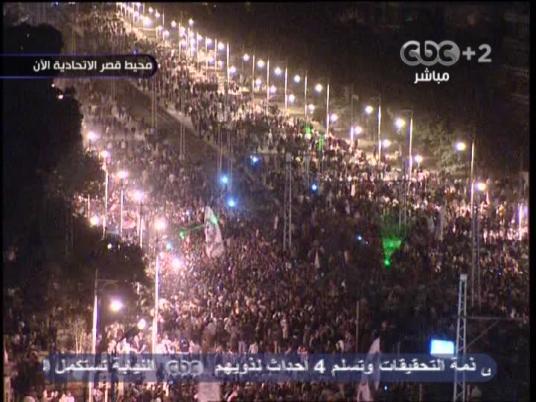 Several political parties and movements once again plan to march to the presidential palace Sunday to protest the constitutional declaration and upcoming referendum.
Marches starting from Nour Mosque in Abbasseya, Keshk Mosque in Hedayek al-Qubba and Al-Sa'a Square, Mostafa al-Nahhas and Abbas al-Aqqad streets in Nasr City will head to the palace at 4 pm.
The marches are the latest in a series of protests against President Mohamed Morsy and the referendum scheduled for 15 December. Seven people were killed after clashes erupted outside the presidential palace last week between supporters and opponents of the president.
Morsy issued a new declaration Saturday partially amending the November declaration by reinstating judicial review, but still granting Morsy broad powers to "protect the revolution."
In the new declaration, Morsy also says that a new Constituent Assembly would have six months to draft a new constitution if the Egyptian public votes down the current draft.
Meanwhile, the National Salvation Front is meeting Sunday to decide its stance on the new declaration, according to an AFP report.
The front, which is a coalition of several prominent opposition politicians and liberal and leftist parties, has not yet issued a response to the declaration.
However, Mohamed ElBaradei, who is a member of the front and also heads the opposition Constitution Party, has denounced the new declaration on Twitter, calling on Egyptians to unite against it.
Edited translation from Al-Masry Al-Youm