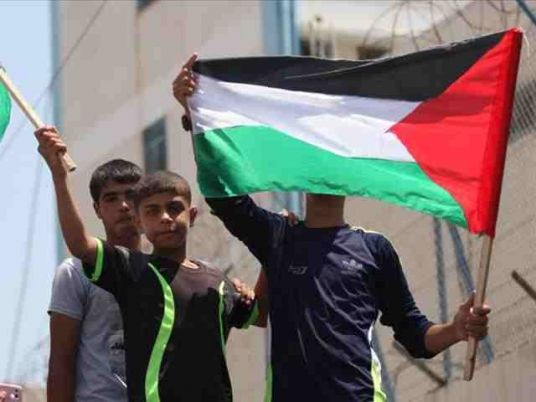 Israel's detainment of hundreds of Palestinian children over the past two months has flooded the Israeli prison system and raised concerns about the conditions children are being detained in.
More than 300 Palestinian minors have been arrested since the beginning of October, according to Palestinian prisoner rights group Addameer, forcing Israel to open a new facility for minors at the Givon prison.
According to the Israeli Prison Service, the facility, currently holding around 80 children, is temporary but meets requirements for holding children.
Addameer, however, said the children at Givon are being kept in unhygienic conditions, in facilities with excessive moisture and with sub-standard food.
Rafat Sub Laban, coordinator of the group's advocacy unit, told Anadolu Agency that the children said they were forced to stand in the cold for hours and were subjected to strip searches.
"The guards gathered them in the toilet," Sub Laban said. "They were strip-searched, all of them, and humiliated. Some of them were physically assaulted."
Israeli Prison Services spokesperson Sivan Weizman said strip searches were used by guards, but claimed they were only done in specific circumstances.
Sub Laban also said it was a worrying trend that overcrowding had forced Israel to open up the Givon facility. He added that it was not clear how Israel would detain so many children, with the Israeli government considering several laws that would criminalize minors as young as 12.
"Whether Givon becomes a permanent prison or not, we don't know. But the services are not good. It is not ready to be used as a permanent prison," said Sub Laban. "[These laws] are a form of collective punishment, that not only punish the children but also the families."
Israeli police were also accused of abusing 13-year-old Ahmad Manasrah after video of his interrogation was published online. He was arrested for an alleged stabbing attack in October.
The footage appeared to show the interrogator pressuring Manasrah, who said he could not remember the incident and complained he was suffering mental trauma, repeatedly hitting his own head in frustration.
Manasrah's case was already controversial because of footage broadcast after the alleged attack, which showed him lying on the ground after being run over by a car, apparently being denied treatment by police and paramedics.
Israel's treatment of imprisoned Palestinian minors has been criticized in the past, with a report published in February by UNICEF, the U.N.'s children's rights organization, highlighting reports of children being blindfolded, facing verbal abuse and intimidation, being held in solitary confinement and being forced to sign confessions written in Hebrew.
There had been 156 Palestinian minors in Israeli prisons at the end of August, according to Israeli human rights group B'Tselem, but Addameer has recorded an additional 300 arrests since the beginning of October.
Almost daily arrests in East Jerusalem and the West Bank have followed two months of violence that have killed 91 Palestinians and 18 Israelis.
Amid the recent violence, Israel's government has passed or considered several punitive measures for children involved in stone-throwing protests against Israeli armed forces, including minimum prison sentences, lowering the age for imprisonment to 12 and heavy fines for their parents.