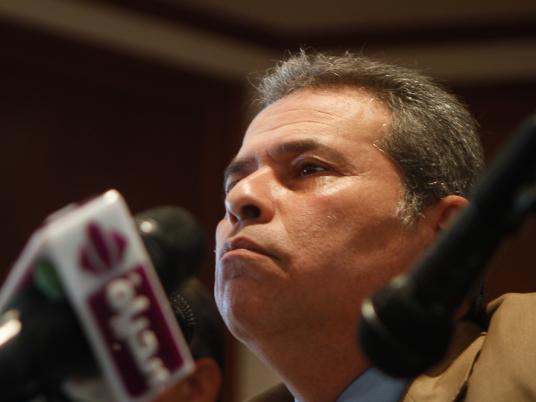 Egypt's parliament voted on Wednesday to cancel the membership of controversial MP Tawfiq Okasha in response to his unauthorized dinner meeting with the outgoing Israeli Ambassador Haim Koren last week.
The motion to dismiss Okasa was carried by a majority of MPs, with 403 voting to terminate his parliamentary career. The Egyptian Constitution states that an MP's membership of parliament can be canceled by a two-thirds majority vote.
The vote was based on a request from 120 MPs submitted to the committee questioning Okasha over the meeting with the ambassador.
Okasha received Koren for dinner at his residence in Daqahlia last week, having publicly announced the invitation on television. The outspoken MP said that he wanted to raise the issue of Palestine with the Israeli ambassador and also discuss solutions to the ongoing problems surrounding Ethiopia's Renaissance Dam project.
To fellow MPs and many among the public, the event represented a breach of a longstanding popular and parliamentary boycott of Israel since the end of its 1973 war with Egypt.
After last week's three-hour dinner meeting, a parliamentary panel banned Okasha from attending the next 10 sessions of parliament. Wednesday's vote to cancel his membership was the result of ongoing efforts from MPs to find a solution to the troublesome Okasha, who had stolen the spotlight repeatedly with his unconventional behaviour.
Commenting on the canceling of Okasha's membership, Parliament Speaker Ali Abdelaal said on Wednesday that the wrongdoing of any member of parliament reflects badly on parliament as a whole.
He went on to say that any state that is governed by law must recognize the various boundaries of authority that exist within and between institutions, while failing to do so brings chaos.
"The basic competence of the parliament is oversight and legislation, while the task of the executive authority is to take action and bear the responsibility," said Abdelaal.
Abdelaal said that Okasha was initially questioned after the meeting with the ambassador because they had allegedly discussed issues of national security without proper authority.
He added said the Egyptian parliament respects all the international conventions and treaties concluded with the Egyptian state, including the peace treaty with Israel.
The ban follows a string incidents that have put Okasha in the spotlight and subjected him to harsh criticism from his colleagues and constituents.
Just before the controversy over the Israeli ambassador broke, Okasha had an altercation with Abdelaal, who refused to allow the MP to address the chamber. Okasha demanded his right to be heard but he was ordered out of the chamber.
Just prior to that incident, Okasha had publically called for new presidential elections and a change of government.
Another MP was landed in trouble with parliament as a result of the dinner meeting with Koren. MP Kamal Ahmed expressed his anger at the meeting by beating Okasha on the head with his shoe. Ahmed was later condemned by other MPs for the attack.