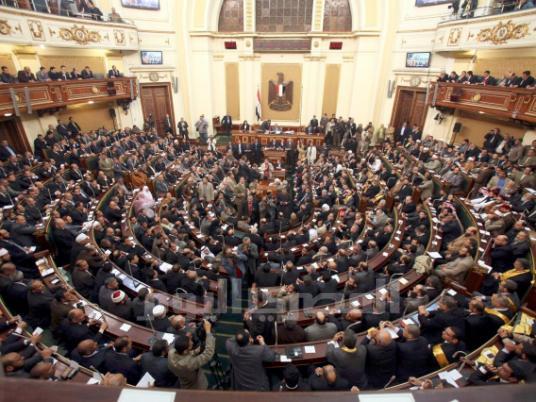 Islamist lawmakers clashed Wednesday over a procedural delay to a draft law on pardons for political prisoners.
Jama'a al-Islamiya's Construction and Development Party MP Amer Abdel Rahim proposed a draft law last month on issuing a comprehensive pardon for those convicted of political crimes from 1967 until 11 February 2011.
Party MPs were angry when a vote on the bill was delayed, prompting them to leave a People's Assembly Constitutional and Legislative Affairs Committee meeting at which it was being discussed.
FJP lawmakers with reservations about the legislation quarreled with Construction and Development Party MPs following the committee meeting. The latter withdrew before the meeting ended after independent committee head Mahmoud al-Khodairy announced that voting could not take place due to the lack of a quorum.
MPs Amer Abdel Rahim and Ashraf Agour objected to the delay and Agour accused FJP lawmakers of attempting to hold up the proposal.
"The majority withdrew before the vote could be taken in order to hinder voting on the bill. We are here to apply God's Sharia, where is God's Sharia, Freedom and Justice Party?" Agour asked.
Tearing up, Abdel Rahim said, "Whoever stands in the way of this bill, I will be at odds with him. I will resign from the [People's Assembly] if the demands of the revolution are not met. Where is the guilt for those in prisons?"
During the meeting, FJP lawmaker Saad Aboud called for another deliberation of the bill before the committee votes on it.
Independent MP Amr Hamzawy said Parliament should wait until a new president is elected and can issue a comprehensive pardon for the detainees.
Omar Sharif, assistant justice minister for legislative affairs, rejected the proposal, saying the detainees it refers to were accused of murder and arson, which are criminal and not political charges.
Edited translation from Al-Masry Al-Youm