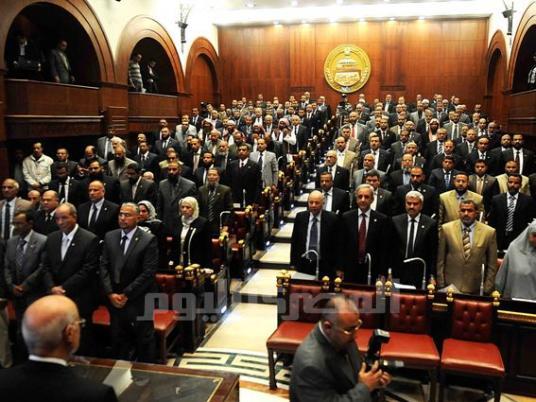 The usually lively and ruckus People's Assembly did not meet this week as senior members from the Muslim Brotherhood's Freedom and Justice Party, which holds the majority of parliamentary seats, led its first official delegations abroad.
Parliament Speaker Saad al-Katatny, who is also the FJP secretary general, led a delegation of MPs to Uganda on 29 March for a five-day visit. They participated in the fall session of the Inter-Parliamentary Union, a forum for political multilateral negotiations with observer status at the United Nations. Among the delegation's MPs were the FJP's Essam al-Erian, head of Parliament's Foreign Relations Committee, political scientist Amr Hamzawy, and Salafi Nour Party representative Ahmed Khalil.
The speaker also attended to some diplomatic duties in meeting with Ugandan Prime Minister Amaama Mbabazi to discuss the Nile Basin agreement, and parliamentary representatives from the UAE and Saudi Arabia. Relations between the UAE and Muslim Brotherhood have been tense following recent comments by Dubai's outspoken police chief accusing the Islamists of plotting to overthrow the Gulf states. The Saudi parliamentary representative said he kept a close eye on Egypt's parliamentary affairs.
Described as part of a global charm offensive to allay fears about the political Islamist movement and its views, the FJP also sent delegations to the US, China, the UK and elsewhere. In Washington DC, they participated in a conference organized by the Carnegie Endowment for Peace about democratic change in North Africa and its regional impact.
The charm offensive had to continue on Katatny's home turf to appease those who have withdrawn from the Constituent Assembly on grounds that it is dominated by Islamists and not representative enough of women and Copts. "We will reach out to people in every geographical location to meet and listen to them. We will meet with all sections of society. No Egyptian that has an opinion on the constitution will be excluded," he told a late Wednesday session of remaining Constituent Assembly members.
Last week, a number of key state representatives announced their withdrawal, including Al-Azhar, the highest religious authority in the Sunni Muslim world, the Coptic Orthodox Church, the Supreme Constitutional Court, liberal and secular parties and the few women that were included in the assembly. Around a fifth of the members are believed to have pulled out, but Katatny says only 11 have sent official notices to decline their seat.
The speaker has given them one week to send in their official complaints about the assembly's makeup so that a discussion can take place about how to resolve it — some are calling for the assembly's re-election, others insist it should stay the same. But, he insisted that it will continue operating in the meantime. "We are going to continue with our work and hope our brothers will catch up with us, because they have been elected and we respect their opinions. But, the assembly was elected to work and won't be delayed," he said defiantly.
The Wednesday sessions heard various speakers voice their opinions about whether to re-elect the assembly. Almost predictably, those with an Islamist agenda argued that the assembly is reflective of the will of the majority and should therefore be left as it is, while those with more liberal and secular leanings asked for some reconsideration about its makeup.
Nour Party MP Bassam al-Zarqa said: "I believe we're agreed on 99 percent of the constitution, including the role of the president, we don't want a pharaoh to return, and issues of social justice. The 1 percent is related to the application of Islamic sharia. Those that withdrew should engage in a discussion about what they've disagreed on. This is not the time to be late. Being late has a cost. Imagine a president is elected without a constitution? And, the economic production wheel is getting slower. If it stops, there will be a crisis," he warned.
The Wasat Party's Essam Sultan explained that those who withdrew are concerned with the "dominance of a particular movement" (read: Islamist). He added that as he was discussing the issue with them, the Muslim Brotherhood announced that it will put forward a presidential candidate in Khairat al-Shater, which only served to confirm their fears. The balance in the constitution, "the revolution's constitution," needs to be addressed, he argued.
Supreme Council of the Armed Forces member Major General Mamdouh Shahin is also a member of the Constituent Assembly, and he said the military will hand over power at the end of June "whether or not the constitution has been completed."
Meanwhile, on Sunday, Monday and Tuesday, the Shura Council held sessions to discuss pertinent though less divisive issues: fertilizer, bird flu and Sinai.
The fertilizer crisis is related to farmers' lack of access to adequate amounts of fertilizer, as well as a monopoly in trade and the existence of a black market, council members said.
Many blame the government for mismanaging this issue. FJP MP Adel Mohsen al-Qamhawy said, "The government has not taken on its national responsibility of providing fertilizer for farmers and has instead left it open to the private sector."
"The Egyptian farmer suffers from a lack of fertilizer, especially that used for sugar cane" Nour Party MP Abdullah Bakri Mohamad pointed out and also said he blames the Agriculture Ministry for this "injustice."
"Doesn't the government know that if your give a farmer 50 percent of the fertilizer, you will get 50 percent of the production," FJP MP Sayed Huzayin, who is also head of the Agricultural Committee, asked rhetorically.
Huzayin was also critical of private sector company operations. "We need to review the contracts of companies operating in free zones. We can't give them subsidized water, energy, land and all of their production gets exported. We need to apply strict rules for the private sector."
He added that "as long as there are two prices for the fertilizer there will be some form of corruption," referring to the difference in fertilizer prices by public and private sector companies.
The agriculture minister was criticized for not being present, as was the interior minister, to respond to accusations of Egyptian fertilizer being smuggled across the border to Libya, Sudan and Israel.
The Principal Bank For Developmentand Agricultural Credit was also discussed, with some arguing that it should play a bigger role in distributing fertilizer and managing a fund for farmers. Ashraf Idriss said it should be converted to an Islamic bank, so that farmers would not be bound by interest on loans. The charging of interest is forbidden under Sharia principles.
In another session, Huzayin presented the agriculture committee's report on Egypt's latest strain of H5N1 avian influenza, which took the life of a 40-year-old woman in the Daqahlia governorate on 15 March. She was thesixth case of human infection with bird flu in Egypt this year, and the third case to be fatal.
Huzayin blamed failed policies and said LE2.5 billion had been spent by previous governments because of the disease. He criticized a lack of employment of new veterinarian graduates to treat the problem using the latest methods. "Is it possible that the youngest doctor is 48-years-old?" he asked.
Hatem Farag, assistant agriculture minister, said the problem was due to reduced immunity in poultry and malnutrition.
A lack of development in the Sinai Peninsula was also on the discussion table with hearings from MPs, Minister of Parliamentary Affairs Mohamed Attiya, and Electricity and Energy Minister Hassan Younes.
The points raised about Sinai's development were not new. The overarching theme was that Sinai should be treated as an equal part of Egypt, and not as a security issue as was done by former regimes. "Sinai was returned to Egypt after the Israeli occupation, but now Egypt needs to return to Sinai," FJP MP Yousry Talib said.
The importance of allowing Sinai's residents to own land and property was raised. Attiya said this had been addressed by the SCAF when it unilaterally passed a law in January, alongside another three controversial laws. Landownership will be allowed after approvals from the army, Interior Ministry and security services and according to rules set by the prime minister. He added that a National Organization for the Development of Sinai had been created.
Also mentioned was Sinai's under-population and potential to absorb more residents from the rest of Egypt to reduce overcrowding in the center. Sinai represents six percent of Egypt's land surface and has less than half a million residents, while five percent of Egypt (Cairo) employs more than 95 percent of the population, Talib said. Sinai's lack of infrastructure was also discussed.
On the People's Assembly committee level, FJP MP Ashraf Badr Eldine of the Budget and Planning Committee refuted claims made by Finance Minister Momtaz al-Saeed that it had been consulted or agreed to the US$3.2 billion International Monetary Fund loan Egypt is negotiating. He said the loan had not been discussed with the committee.
The Financial and Economic Committee discussed in the Shura Council on Monday the potential to use Islamic bonds instead of conventional ones, though this has yet to be discussed in the People's Assembly.
And, a dispute has erupted between the Culture, Media and Tourism Committee and the Interior Ministry. The ministry has refused to comply with a request by the committee not to travel to Saudi Arabia to discuss issues related to the annual Hajj pilgrimage without notifying Parliament, especially since Hajj-related affairs are meant to be transferred to the Tourism Ministry.