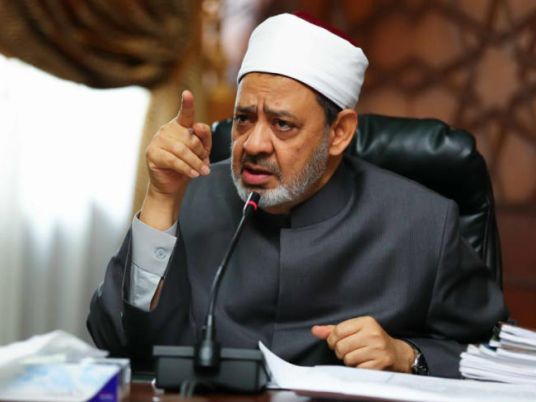 The grand sheikh of al-Azhar, Egypt's highest Islamic authority, said that it is up to individuals, in Islamic law, to decide to believe or disbelieve, in a speech he gave at the German parliament on Tuesday.
Answering the questions of German lawmakers in the Bundestag, Sheikh Ahmed al-Tayeb said there are Egyptian TV stations that discuss and preach atheism without being stopped.
Tayeb's speech at the Bundestag was broadcast on state Egyptian television.
The Egyptian government has come under scrutiny from human rights organizations in Egypt and internationally over an alleged crackdown on freedom of belief. In April 2015, the Ministry of Endowments launched a series of intensive training events to confront atheism, and in December 2014, Dar al-Ifta, another key state-affiliated religions institution, issued a report with a set of suggestions on how to "confront the spread of the phenomenon of atheism."
Tayeb is currently in Berlin, where he visited Germany's Roman Catholic Archdiocese and met with top Christian clerics and interfaith dialogue leaders.
"Terrorists who commit their crimes in the name of religions do not represent those religions," Azhar's top imam said in his speech at the German parliament.
"In fact, they are betrayers of the religions they claim to fight for," he added.
He called on Muslims and Christians to unite in the face of "extremism, terror, and injustice in all its forms."
Egypt is battling a wave of militancy, which intensified in 2013 with the military ouster of then-President Mohamed Morsi of the Muslim Brotherhood group following mass protests against his rule.