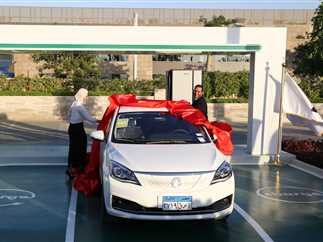 A new electric car produced by El Nasr Manufacturing Automotive Company is set to launch in the Egyptian market in August 2022.
Ministry of Business Sector announced the prices and specifications for the electric car on Wednesday, confirming that more than 25,000 cars will be launched annually.
Al-Masry Al-Youm published the following information about the cars:
1-Three categories of the electric car will be offered,  with the top tier reaching a maximum speed of 150 km per hour with a power of 147 horsepower.
2- Each charge covers more than 400 km at a cost of only LE140 at the charging station.
3- The base price is LE360,000.
4- The car has an advanced safety system and it contains ABS, EBD, ESC, BA, TCS, HSA.
5- The new car comes with luxury specifications for your comfort, including a sunroof, a control screen, electric chairs, a TV screen and an air conditioner with plasma technology.
6- It has a 360-degree view of the car's surroundings from the outside.
7- 85 percent of the electric car will be manufactured locally, with just the engine, battery, and control unit imported.
8- The government will offer LE50,000 as subsidy for each new car in the early stages of production.
9- A number of locations have been selected for the establishment of charging stations in the governorates of Cairo and Giza, and these stations will be completed before the cars are put up for sale.
Edited translation from Al-Masry Al-Youm