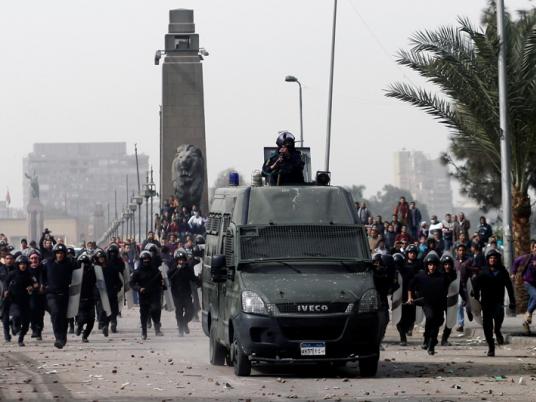 Police officers in Alexandria, Minya, Assiut and Fayoum have threatened to strike if the security directorates or Interior Ministry do not take steps to safeguard police stations and headquarters from protesters attempting to storm the buildings. They issued a call to assemble in front of directorate headquarters at 3 pm on Monday.
The police condemn "describing these people [who attempt to storm police headquarters] as revolutionaries and martyrs," said a statement published on the Facebook page "Police Officers Revolution." The statement went on to call such individuals "offenders" and "thugs" who are inciting chaos.
They demanded that the police be fully armed "to confront acts of thuggery."
A coalition of officers across the four governorates asserted that if their demands are not met, security directorates would be broken into and their chiefs expelled.
Governorates across the country have been subject to violent clashes between police and demonstrators since protests marking the anniversary of the 25 January revolution on Friday. Dozens have been killed and hundreds injured in the course of demonstrations against President Mohamed Morsy and the Muslim Brotherhood.
Edited translation from Al-Masry Al-Youm