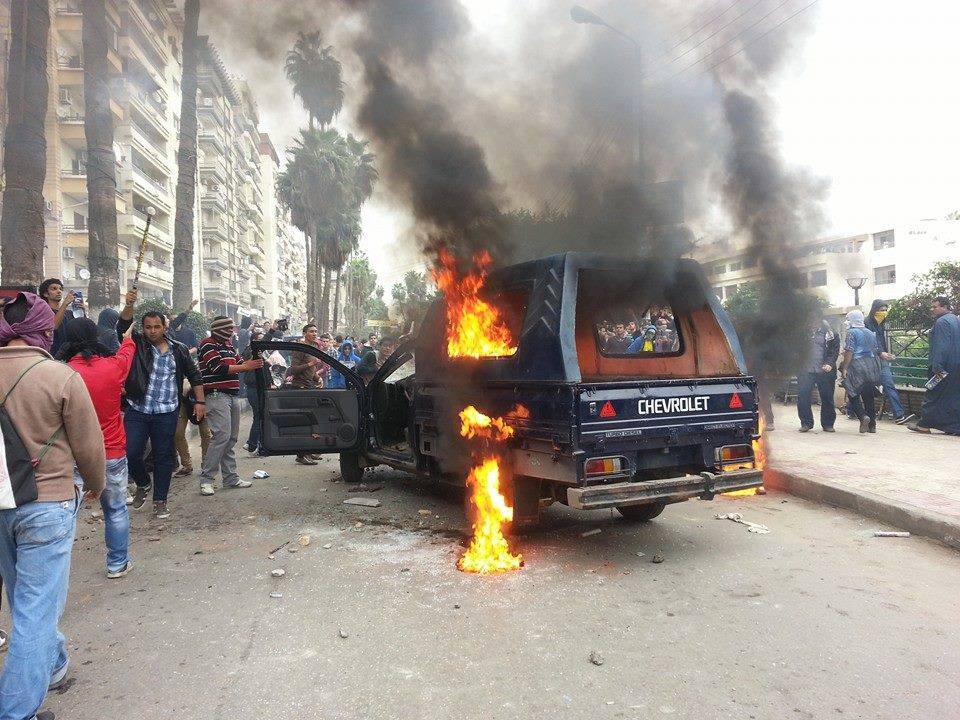 Police armored vehicles broke into Al-Azhar University and arrested 10 Muslim Brotherhood students, while hundreds others fled as teargas bombs were fired.
Dozens of the Brotherhood students reportedly blocked Nasr road on Monday, and the clashes that ensued led to the torching of a private bus.
Skirmishes between police and hundreds of the Muslim Brotherhood students extended to outside the campus reaching the National Security Agency headquarters in Nasr City.
The students hurled stones at police and chanted slogans against Interior Ministry. They also set central security armored vehicle and another police one on fire, while troops fired teargas and sound bombs to disperse the protests.
Students at Al-Azhar University have stepped up protests since a fellow student was killed on campus in clashes by security forces 21 November. The victim was a sixth year medical student named Abdel Ghany Mohamed Hamouda. Students have vowed to continue protesting until the perpetrator of Hamouda's death is brought to justice.
Interior Ministry's media center said Osama al-Abd, the university president, called for the ministry's intervention to secure the university premises.
Interior Minister Mohamed Ibrahim instructed central security sector and Cairo security department to tighten their presence around the university, the ministry media official said, adding that security troops and others from civil protection department were deployed to control fires that broke out inside the university.
Female Brotherhood students staged demonstrations at the university's girls branch. Security armored vehicles then arrived to Nasr road next to the university main gate.
Traffic congestion was seen on Youssef Abbas the university streets due to the demonstrations by female students.
In related news, prosecution resumed investigations on clashes that erupted earlier between the students and police which left many vehicles and trees burnt inside the university. Prosecution required outcome of investigations conducted by the national security agency over the incidents.
Prosecution team went to the areas around the university dormitories for inspection of clashes and fires that happened on Sunday and counting the damages.
Edited translation from Al-Masry Al-Youm