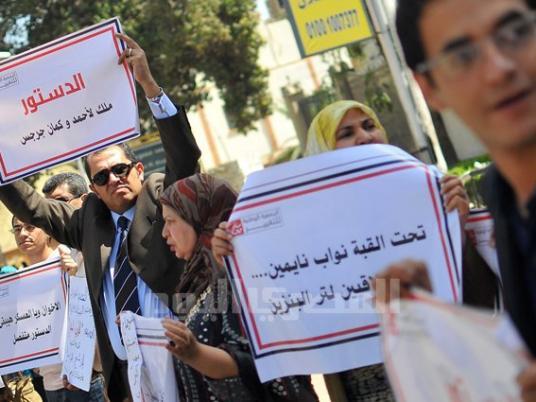 Meetings being held between political forces over standards for the Constituent Assembly are a "waste of time" because the Muslim Brotherhood's political party will form the body as it prefers, said the secretary general of the Advisory Council to the ruling military junta.
Osama Borhan said in a statement that the monopoly of a single faction over the body would be harmful to other political groups.
The Freedom and Justice Party is to exclude those who do not belong to the Parliament's Islamist majority from the assembly under the pretext that its parliamentary dominance has given it the right to draft the constitution, he said, adding that constitutions should not be drafted according to the parliamentary majority, and should take into account minorities, disadvantaged groups, youths and women.
Borhan noted that the current situation regarding the assembly is hazy and that the parliamentary majority aims to keep it that way until the presidential election concludes.
If the Constituent Assembly decides to establish a parliamentary system in Egypt, then another presidential election will have to be held, said Borhan.
Borhan said the Supreme Council of the Armed Forces gave all political forces an opportunity to agree on the standards of the assembly, but they could not.
The SCAF should add a supplementary clause to Article 60 of the Constitutional Declaration specifying the standards for choosing the Constituent Assembly, said Borhan. He noted that the military council has multiple suggestions for standards, whether proposed by the Advisory Council or other political forces, and that these are the only solution to the assembly selection crisis.
Edited translation from Al-Masry Al-Youm