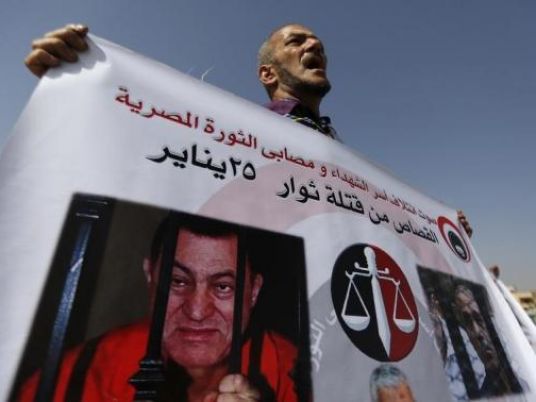 A ruling by the Cairo Criminal Court Saturday acquitting former president Hosni Mubarak and members of his regime of charges of murdering protesters during the 2011 revolt that forced him out of office has sparked a controversy among politicians and activists.
"The politicized decision to acquit Mubarak is a declaration of the collapse of the judiciary," the Muslim Brotherhood's Freedom and Justice Party, said on its website. The party called upon what it described as "revolutionary forces" to unite and respond to the ruling in squares. "Rise up to proceed with the revolution and resist injustice," the statement read.
The April 6 Youth Movement, one of the most prominent activist groups against Mubarak's rule, said on its Facebook page that one of its members, Mahmoud Hussein, was arrested at Faisal Street in Giza for writing "down with Mubarak" on his bare chest.
"Down with Sisi Mubarak rule," read a post on the page.
"I offer the sincerest condolences to the families of the January revolution martyrs," Ayman Nour, chairman of Ghad al-Thawra Party, who was jailed following his presidential quest against Mubarak in 2005, said in a tweet. "Justice is dim and injustice is glowing… protesters get 15 years, hundreds are executed for murdering one person, while those who killed hundreds are acquitted."
"The plan's last stage is executed successfully. Lobby spies and media drumbeaters. People, never raise your chins before your masters again," tweeted prominent author Alaa al-Aswany, who is known for his fierce criticism of Mubarak.
Gamal Eid, director of the Arab Network for Human Rights Information (ANHRI) said Mubarak's innocence was inevitable since the state was not willing to punish him for his crimes. "The counter-revolution has started to put down its cards impetuously, which is good. Even if the counter-revolution wins one round, victory will be for the revolution eventually," Eid told Al-Masry Al-Youm.
Mohamed Abul Ghar, chairman of the Egyptian Democratic Party, said the ruling "disappointed Egyptians." He told Al-Masry Al-Youm that the verdict will inevitable affect the popularity of President Abdel Fattah al-Sisi and increase sympathy with for Muslim Brotherhood.
"Even if he wins 1,000 acquittals, Mubarak will remain a corrupt despotic dictator," Youssef al-Husseiny, a media host at the ONTV satellite channel and an ardent supporter of Sisi said on twitter. "We will never forget millions of victims to poverty, disease and sickness," he wrote.
Mubarak's lawyer, Farid al-Deeb, however, appeared unfazed with the criticisms. "Let them continue their commotion," he told Sadal el-Balad satellite channel in a phone call.
Former MP and journalist Mostafa Bakry supported the ruling, saying that he had previously stressed that police and Mubarak were innocent of murder. "The acquittal is a judicial verdict that should be respected anyway. A lawsuit has to be brought against the Muslim Brotherhood and Hamas, the real murders of our sons," he said on Twitter.
The Revlutionary Soclaists movement said the verdict does not mean much, stressing that it will cooperate with other revolutionary forces to expose the real goals behind the trial.
Edited translation from Al-Masry Al-Youm