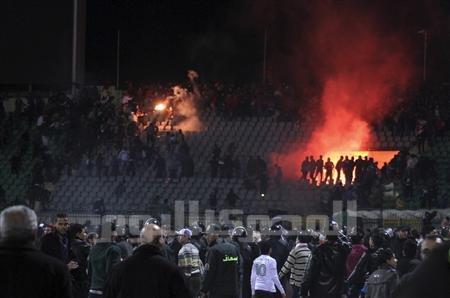 A collection of politicians, artists, media personnel and activists marched in support of Port Said in the coastal city Friday in a broad show of solidarity, amid reports that the city is suffering from a virtual economic blockade as a result of a deadly incident at its football stadium earlier this month that left over 70 people dead.
Actor Amr Waked, Egyptian Social Democratic Party MP Ziad al-Elaimy, activist and blogger Nawara Negm and TV host Moataz Matar led a march that set off from the coastal city's Rahma Mosque.
The Salafi-oriented Nour Party showed its support by sending a convoy of hundreds of party members from around Egypt to Port Said on the same day.
The convoy participants performed Friday prayers at Rahman Mosque and then went shopping. The party also held a public rally at which its spokesperson, Nader Bakar, addressed Port Said residents.
The Muslim Brotherhood's Freedom and Justice Party also staged a number of marches in the Zohour neighborhood, followed by a public rally on Tarah al-Bahr Street.
Presidential hopeful Abdel Moneim Abouel Fotouh delivered a short speech to worshipers at the Tawfiqy Mosque following Friday prayers. He emphasized the bravery of the people of Port Said, and held the Supreme Council of the Armed Forces and Port Said governor fully responsible for what he called "the massacre of Port Said."
News reports over the past week have said that Port Said has suffered from what has amounted to an economic blockade and that its residents are being abused in neighboring governorates as a result of the deadly incident.
Major General Sameh Radwan, head of Port Said Security Directorate, denied this in a statement to state-run news agency MENA on Thursday, warning citizens that repeating unverified reports can harm the country's security.
He stressed that all commodities and supplies are available in Port Said and that the city is not suffering from a food shortage.
Translated from Al-Masry Al-Youm