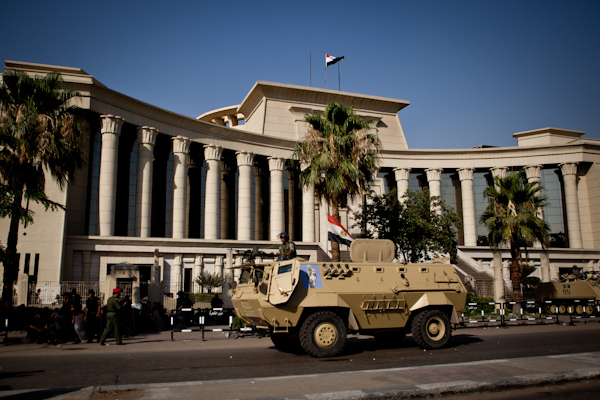 Politicians and legal experts say they expected the Supreme Constitutional Court's ruling that the Political Isolation Law is unconstitutional.
Mohamed Abul Ghar, head of the Egyptian Social Democratic Party, said he respects judicial rulings but is against allowing former Prime Minister Ahmed Shafiq to compete in the presidential race, saying that it would increase polarization in the country. Abul Ghar said that it was anticipated from the beginning that the isolation law would be struck down.
Nabil Zaki, spokesperson for the Tagammu Party, pointed out that constitutional law scholars unanimously agreed that the law would be deemed unconstitutional. He described the Political Isolation Law as a "legislative deviation" because it was drafted to target one person.
Adl Party leader Khaled Hal said the court ruling is correct and that the Political Isolation Law should have been issued at the beginning of the revolution through a constitutional declaration banning former regime figures from political life, which he added was common in post-revolutionary countries.
"I was expecting the Supreme Constitutional Court to rule that the isolation law, referred to it by the Presidential Elections Commission, is unconstitutional. The court has made the right decision because the law was drafted for one person," said constitutional expert Ibrahim Darwish.
Darwish stressed to Al-Masry Al-Youm that the presidential election procedure was correct.
The Supreme Constitutional Court ruled Thursday that the Political Isolation Law, which would ban certain high ranking member's of Mubarak's regime from holding office, unconstitutional. It also ruled the Parliamentary Elections Law unconstitutional, which would lead to the dissolution of the Islamist-dominated Parliament.
Tagammu Party leader Sayed Abdel Aal said disbanding Parliament would return the revolution to its correct path because the new constitution should have been drafted before elections were held.
Safir Nour, a leader in the Wafd Party, said the decision will reorganize the political arena and will show the size and strength of political parties and alliances in the street again.
Edited translation from Al-Masry Al-Youm