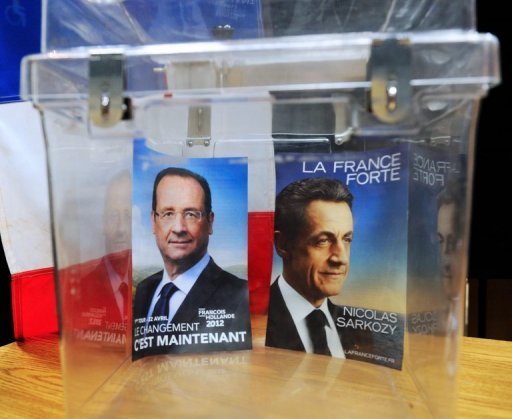 PARIS — France voted in a presidential run-off election on Sunday that could see Socialist challenger Francois Hollande defeat incumbent Nicolas Sarkozy by capitalizing on public anger over the government's austerity policies.
The election outcome will impact efforts to fight France's debt crisis, how long the nation's troops stay in Afghanistan and how France exercises its military and diplomatic muscle around the world.
Under Sarkozy, France pledged to rein in its spending while the rest of 17 countries that use the euro embark on a strict period of belt-tightening. In France, that has included programs designed to reduce government employment.
Sarkozy, disliked by many voters for his handling of the economy and brash personality, promised he could produce a surprise victory on Sunday. Speaking on Europe-1 radio Friday, he said much will depend on whether French voters bother to cast ballots in an election that polls have always predicted Hollande would win.
Hollande was benefiting from anti-Sarkozy fervor, with some voters saying their choice was more a vote against him than one for Hollande.
"We've had enough of Sarkozy, the way he takes decisions without consulting anyone," said Stephane Thomas, 24, after voting in Paris' 10th arrondissement.
In a sign of the attention the campaign has attracted, Google's home page in France was redesigned with one of its ever-changing "doodles" devoted to the election.
In Hollande's town of Tulle, residents who got up early to vote offered mixed messages about him. He has been a local official and lawmaker for years in the town and its surrounding Correze region.
"I don't know if he's capable of being president. I just don't know because here we just bump into him on the street. With us, he's like that," said Lydia Sobieniak, 65, a former factory worker, outside the polling station where Hollande was voting shortly after it opened.
"It's going to be hard. Whoever it is (who wins) … there will be no miracles," said Sobieniak, who added that Hollande helped her get a contract job in education in 2004 after she left her private sector job.
Hollande beat Sarkozy by about half a million votes in the first round of voting on April 22, which saw 10 candidates competing for the job of running this nuclear-armed country with a permanent seat on the U.N. Security Council for the next five years.
The first round turnout of around 80 percent was higher than expected and is being closely watched again, with polls suggesting Sarkozy's best chance of an upset comes from even greater voter turnout Sunday.
Asked Friday what he would do if he loses, Sarkozy said simply: "There will be a handover of power."
"The nation follows its course. The nation is stronger than the destiny of the men who serve it," he said. "The fact that the campaign is ending is more of a relief than a worry."
Hollande urged his followers against complacency. "Victory is within our grasp!" he said in a rousing rally in the southern city of Toulouse on Thursday night.
Polls released Friday and Thursday show the gap between the candidates shrinking but results still solidly in Hollande's favor.
A poll by the BVA agency shows 52.5 percent support for Hollande and 47.5 percent for Sarkozy. A poll by the agency CSA shows 53 percent for Hollande and 47 percent for Sarkozy.
For both polling agencies, that was the smallest spread registered in the campaign, which a few months ago saw polls predicting Hollande winning by a crushing 60 percent to Sarkozy's 40.
The margin of error on each poll was plus or minus 2-3 percent. BVA questioned 2,161 people by telephone Thursday. CSA questioned 1,123 people by telephone Thursday.
The polls were carried out after the candidates' only debate Wednesday night, which Sarkozy had hoped would be the knockout blow he needed.
Hollande has received the support of a prominent centrist who won 9 percent of the vote in the first round of presidential elections, Francois Bayrou. Bayrou said Thursday night he would not give his voters specific guidance for Sunday's vote — but that he will cast a ballot for Hollande.
Bayrou criticized Sarkozy's campaign rhetoric as too violent. Sarkozy has sought to lure far-right voters who supported anti-immigrant candidate Marine Le Pen in the first round.
Sarkozy kept it up anyway Thursday at a big campaign rally in Toulon.
"We don't want different tribes, we don't want ethnic communities to turn in on themselves, we don't want (non-citizen) immigrants to vote," he said.
Critics of Sarkozy have often faulted him for his brash style, alleged chumminess with the rich, and inability to reverse France's tough economic fortunes and nearly double-digit jobless rate.
Hollande has promised more government spending and higher taxes — including a 75-percent income tax on the rich — and wants to re-negotiate a European treaty on trimming budgets to avoid more debt crises of the kind facing Greece.