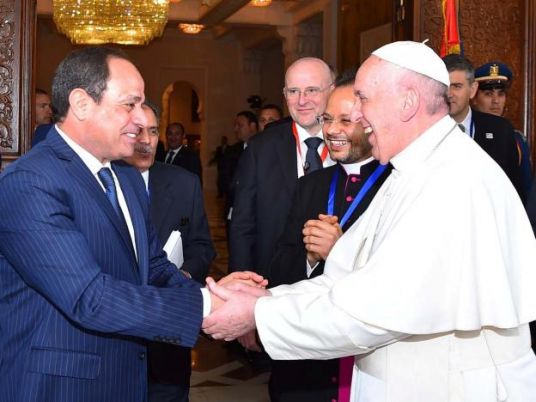 Pope Francis I's visit to Cairo was noticable for several reasons, despite only lasting for just over a day. Al-Masry Al-Youm followed the trip closely, from his his arrival at Cairo International Airport on Friday until he left on Saturday.
As he alighted the airplane, the Pope greeted the Prime Minister, bishops and priests, as is custom; however, in a break from tradition, the Pope also greeted members of the committee that organized the reception.
Throughout his visit to Cairo, he travelled from place to place in a simple car that was brought with him from Italy. Ahead of the mass on Saturday, he rode in a cabriolet convertible which allowed him to greet people in the vicinity.
Once at the Air Defense Stadium, the pope insisted that disabled people were sat in the first row next to the VIP guests.
During the mass, the pope mixed between Coptic and Latin prayers. He also used six different languages during the mass.
The Pope spoke in Arabic eight times during the visit. At his meeting with Azhar Grand Sheikh Ahmed al-Tayyeb, he said: "Religion is God's, but this country belongs to everyone". At his meeting with President Abdel Fattah al-Sisi, he said: "Long live Egypt. Um al-Donia". In the Coptic Cathedral, he said: "Jesus rose again. In fact he did". He also said "Al-Salamu Alikom" four times, the last of which was at the mass on Saturday.
The Pope conneced his visit to Egypt to that of Saint Francis of Assisi, who came to meet Al-Sultan al-Kamel asking for peace.
Pope Tawadros II, the leader of the Coptic Church, gifted him a statue of the saint, while the delegation offered him the medal of the Orthodox Church. In return, Pope Francis gifted the Orthodox delegation the Catholic Church medal.
Edited translation from Al-Masry Al-Youm