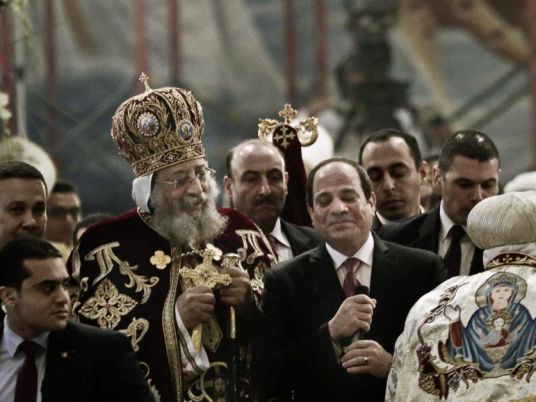 Pope Tawadros II, Pope of Alexandria and Patriarch of the See of St. Mark, congratulated the Egyptian President Abdel Fattah al-Sisi on the occasion of Eid al-Adha.
The Pope sent a congratulatory cable, stating: "On my own behalf and on behalf of the Egyptian Coptic Orthodox Church, I am pleased to present to your Excellency and to all our Muslim loved ones the most heartfelt congratulations on the occasion of the blessed Eid al-Adha. We are thankful to God who helps your endeavors in developing the country and facing various challenges.
Pope Tawadros II added, "We pray that God blesses all that your hands extend to in building our dear homeland, Egypt, and fulfilling the aspirations of the Egyptians."
"May you always be preserved by God's care, and may goodness, security, and safety last for our beloved Egypt and its great people," the message concluded.
The Ministry of Labor announced that the Eid al-Adha holiday and the anniversary of the June 30 revolution, will run from Tuesday, June 27, until Sunday, July 2.
The holiday will be an official paid leave for workers in the private sector addressed under the provisions of Labor Law #12 of 2003, as well as workers in ministries, government agencies, public bodies, and local administration units.