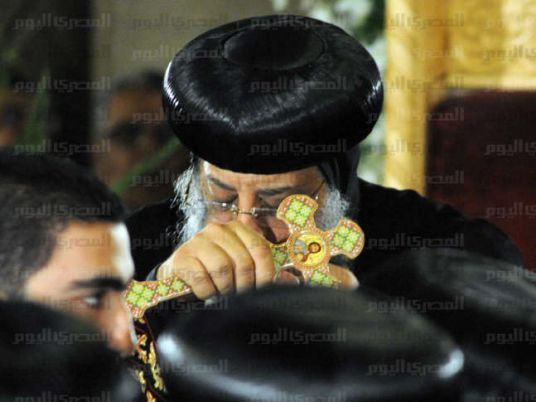 Pope Tawadros II, the head of Egypt's Coptic Orthodox Church, has spoken about his meeting on Friday with Saudi Arabia's King Salman bin Abdel Aziz, saying that he valued that the king's support for Egypt and Egyptians.
The meeting was part of Salman's five-day official visit to Egypt, during which he is signing a number of economic deals with Egyptian President Abdel Fattah al-Sisi.
Friday's meeting was the first between Salman and Tawadros, who both assumed their positions relatively recently. Salman ascended to the Saudi throne in January 2015, while Tawdros became Pope in November 2012.
Tawadros said that their meeting, which took place at his residence, was focused on getting to know each other, sharing memories of Salman's previous visits to Egypt prior to his being crowned.
The pope expressed his appreciation for the support Saudi Arabia provided to Egypt during the events of June 30, 2013, in which President Mohamed Morsi was removed from power after mass protests.
Tawadros also thanked Saudi Arabia for taking care of the many Egyptian citizens based in the Gulf kingdom.
A source from the Coptic Orthodox Church responded to angry comments from young members of the Coptic community who observed that the Pope was not holding a wooden cross during his meeting with Salman.
The Church said that Tawadros only holds the cross when giving blessings, and that he was wearing a pendant with picture of Virgin Mary during the meeting.
Tawadros continued his diplomatic activities on Saturday, receiving a delegation from the Emirati Federal National Council at St. Mark's Orthodox Cathedral in Abbasseya.
The delegation included Amal al-Qobeisy, head of the council, Mohamed al-Mazrouy, the council's secretary general, and council members Ahmed Youssef al-Neimy, Aisha Rashed al-Yatim, Ahmed Mohamed al-Hamoudy, Khalfan Abdullah bin Youkha and Naema Abdullah al-Sherhan.
During the meeting, they discussed the links between the Egyptian and Emirati people, as well as the good treatment that Egyptian churches receive in the Emirates.
Edited translation from Al-Masry Al-Youm