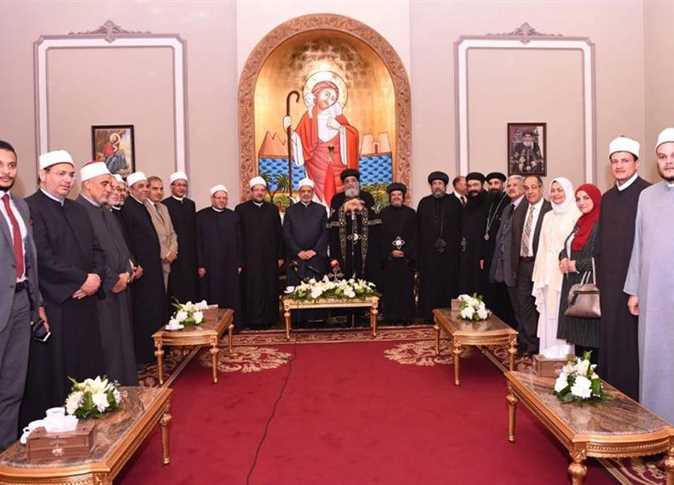 Pope Tawadros II received Al-Azhar Grand Sheikh Ahmed al-Tayyeb, along with the Al-Azhar leaders, at the papal headquarters of the Cathedral of St. Mark on Saturday.
Minister of Endowments Mohamed Mokhtar Gomaa, an Endowments Ministry delegation, Mufti Shawki Allam and a delegation from Dar al-Iftaa also accompanied Tayyeb.
The guests extended their congratulations on the occasion of Easter holiday and exchanged the words of love and appreciation.
In a previous exchange of inter-religious tolerance, al-Tayyeb headed a high-level religious delegation to the headquarters of the Coptic Cathedral of St. Mark in Abbassiya to visit Pope Tawadros II, Pope of Alexandria and Patriarch of the Coptic Orthodox Church, to celebrate Christmas.
Sheikh Ahmed al-Tayyeb wished Pope Tawadros II and all Christians a happy and joyful Christmas.
The Grand Imam also congratulated Pope Tawadros II on the new headquarters of the Coptic Orthodox Church in the New Administrative Capital, stressing that the feelings of compassion and friendly mutual visits between Muslims and Christians are part of the teachings of Islam.
Edited translation from Al-Masry Al-Youm