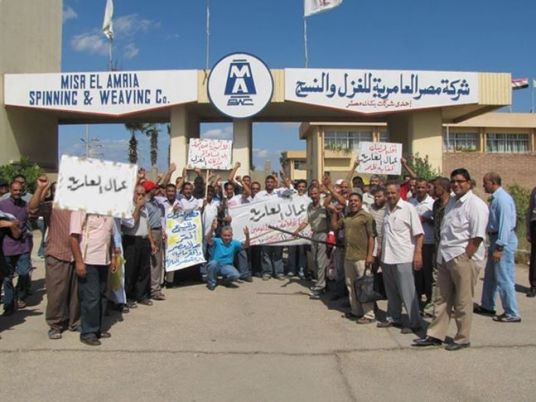 Workers at the Port Said Engineering Works Company, affiliated with the Suez Canal Authority, staged a sit-in at the company's headquarters Wednesday at Port Fouad to demand the annual 10 percent bonus decided by a presidential decree issued in September 2015 to state employees.
The decree excluded employees who are subject to the new Civil Service Law.
The protesting workers said the Suez Canal Authority decided that the companies affiliated to the authority are not included in the bonus.
The protesters called for other rights related to pensions and health and housing services. They said housing units built for company employees have been finished for seven years but they have not been handed over to them.
Adel al-Ghadban, adviser to president of the Suez Canal Authority, visited the company in an attempt to negotiate with workers but the workers insisted on their demands.
The Port Said Engineering Works Company is one of seven other companies affiliated to the Suez Canal Authority. Workers at the seven companies are governed by financial regulations other than the regulations applied to workers of the authority.
The manpower ministry's visit to Mahalla threatened workers by demanding they end their protests, Misr Spinning and Weaving Company in Mahalla labor leader Kamal Mohamed told Al-Watan newspaper Wednesday. According to Mohamed, the 10 percent bonus is LE50 a month for each worker.
Protests by workers at government-run factories are demanding the release of a 10 percent bonus the Finance Ministry decided to disburse only to state agencies rather than public factories and businesses. The most notable strikes are being staged by employees at Misr Spinning and Weaving Company in Mahalla and other provinces.
Efforts by Manpower Minister Gamal Sorour, who traveled to Mahalla on Monday, have failed to bring about a resolution to the crisis, with the workers rejecting their superiors' demands to resume operations. Workers were enraged by the minister's failure to meet with them.
Edited translation from Al-Masry Al-Youm