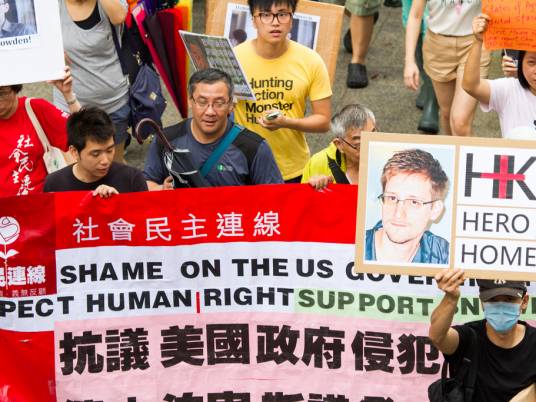 Revelations of America's industrial-scale surveillance have painted an alarming picture of the National Security Agency as a spy service operating virtually without limits since the 9/11 attacks, experts say.
Disclosures from intelligence leaker Edward Snowden have revealed how far the NSA has pushed the envelope in its digital snooping after being granted sweeping powers by Congress in the aftermath of the September 11 2001 attacks.
The Patriot Act and other laws adopted after 9/11 "basically unleashed what we see today," said Gordon Adams, a professor at American University who served as a senior official in Bill Clinton's administration.
"In a climate of fear, we basically took the reins off of accountability for the intelligence community."
Congress "opened up a floodgate" and both President George W. Bush and Barack Obama justified the approach by citing the threat posed by Al-Qaeda, Adams told AFP.
"This is a bipartisan project," he added. "The reality is the law gave them [NSA] immense running room and they have seized every inch of that running room and then some."
The agency and its defenders say the NSA has always operated legally but some lawmakers and civil liberties groups charge the agency went beyond even the generous boundaries set by Congress, especially when it comes to gathering up "meta-data."
In the wake of Snowden's bombshell leaks, foreign governments from Brazil to France have voiced outrage about eavesdropping and lawmakers are now pushing for stricter limits on the NSA's spying authority, putting the White House on the defensive.
"We want to ensure we are collecting information because we need it and not just because we can," Lisa Monaco, assistant to the president for homeland security and counter-terrorism, wrote in a commentary Thursday in USA Today.
While the Obama administration was reviewing its surveillance policies, she said the U.S. spy services have "more restrictions and oversight than in any other country in history."
Revulsion at spying abuses led to reforms in the 1970s empowering a surveillance court to review NSA eavesdropping and envisaged Congress as a watchdog to check excesses.
But rights advocates argue that Congress has failed to hold the NSA to account over the past decade, and that the spy agency also failed to give lawmakers a true picture about its vast digital dragnet of online traffic and other espionage.
U.S. intelligence officials "repeatedly misled Congress," said Greg Nojeim at the Center for Democracy & Technology.
"They misled the public about what was going on. They even misled the FISA [Foreign Intelligence Surveillance Act] court, the court that is supposed to be deciding whether they can do what they want to do," he said.
Two outspoken Democrats on the Senate Intelligence Committee, Mark Udall and Ron Wyden, have demanded the government fully inform the public about privacy violations and "secret" interpretation of surveillance law.
The agency's soft-spoken director, General Keith Alexander, insists his deputies have gone to great pains to keep Congress informed and to ensure NSA surveillance remained lawful.
But Snowden's leaks have angered allies about U.S. spying on friendly heads of state and provoked dismay among many Americans that their privacy is under threat.
A critical profile of Alexander, who has held the director's job for eight years, alleges he was not overly worried about legal considerations.
"Alexander tended to be a bit of a cowboy," one former intelligence official told Foreign Policy magazine.
His attitude was, "'let's not worry about the law, let's just figure out how to get the job done,'" said the unnamed official.
Concerns about an "out of control" spy agency will not subside unless the government begins to lift the veil of secrecy that surrounds the agency, as well as the work of the surveillance court that oversees it, said Jim Harper of the CATO Institute think tank.
"Within a bubble of secrecy, the intelligence community has come up with interpretations of the law that are flatly wrong," he said.
Secrecy is "a cancer" that has to be removed to allow checks on the NSA's authorities, Harper said, and Snowden's leaks have helped spark a long overdue debate.
However, most of the reforms being discussed in Congress would not radically alter NSA's powers or the surveillance court's role, said Carrie Cordero of Georgetown University Law Center.
"For the most part, the proposals that exist in Congress today are about making changes to the current system, perhaps with respect to more transparency but maintaining the overall integrity of the court as it exists."