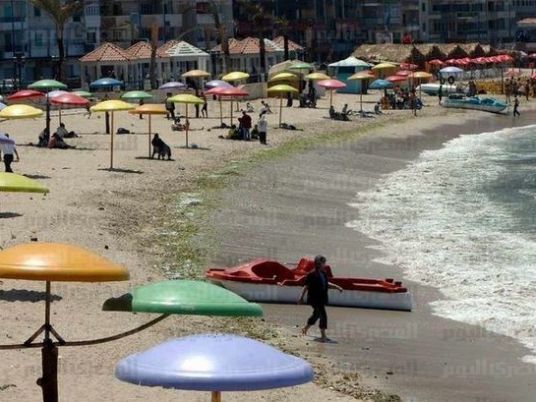 The North Coast this year adds a unique flavor to Ramadan, transforming old customs and traditions into a novel experience. For many, the season of summer holidaying will start a little later this year, with Ramadan keeping people at home. But despite the hours of fasting, some people prefer to spend a few days of the Muslim holy month on the quiet beaches of the north coast away from the city, its noise and its traffic.
Iman Ismail, 29, chooses not to follow convention when it comes to Ramadan. The start of Ramadan saw a large number of people leaving the north coast to travel to the family home. But not Iman. She has opted to stay in the Mediterranean beach resort of Marina 7 until the 20th day in Ramadan.
"Thank God, this year Ramadan came during the school summer holiday, which allows me and my two sons to spend as much time as possible here by the sea," she says. "Cairo is very crowded in Ramadan — before 'iftar' (breaking of the fast) and after — and that makes fasting very difficult for us. And the heat is unbearable. For all these reasons and more, I am choosing to stay in Marina till the end of Ramadan. I'm lucky I'm a housewife so I don't have to go to work everyday. My husband, however, spends three days with us here each week but has to commute to Cairo for work."
Another case of a beach resort Ramadan is Wafaa Wasfy. She says, "Marina resort has everything we need for Ramadan, even Kunafa and Qattayef (traditional Ramadan desserts) that you can get in the supermarket. There's nothing missing here. One of my regrets is that mosques finish up the 'taraweeh' prayer early because the sheikhs here read shorter verses of the Quran, when in Cairo they typically read longer ones."
Mikhail Nakhla, another beach-goer, arrived at the resort with his wife 20 days before Ramadan. He says, "I'm staying here till the 20th day of Ramadan, then planning to return to Cairo to conduct the affairs I will have neglected for a while. I will be heading back during the feast. For the past three years we have been coming to Marina before Ramadan and we always end up staying for a little bit of the month each year. What I love about Marina in Ramadan is that things remain nice and quiet."
Nakhla's wife, Samira Sedra complains that many of the restaurants on the north coast close during Ramadan, which means their family has to hunt a little further a field for restaurants — the closest of which is about 5km away. Samira expected this year the situation would be different.
"Ramadan this year came in the summer season and also during the school holidays. For this reason I expect a lot of Muslims to come to the north coast to enjoy the nice weather and escape the noisy traffic in Cairo. In my opinion, fasting is a lot easier at the seaside."
Samira thinks that all elements of Ramadan festivities should be available on the north coast, saying, "I wanted to see more Ramadan tents around here, and celebrations like there are in Cairo. Given that the summer holiday this year was interrupted and cut short by Ramadan, it would've been nice to merge the summer season and the Ramadan festivities."
Dr. Nabila Mokhtar, refused to go to the north coast during Ramadan and will be going instead during the 'Fitr' feast that directly follows the month of fasting. She believes that the typical beach lifestyle goes against the core values of Ramadan — particularly at Marina resort. Fasting cannot occur in the right way there, she asserts, because many things happen that stand in direct contradiction to the moral values of Ramadan.
"A tourism company offered us a one-week stay at the beach during Ramadan and we refused, because Ramadan is about bringing families together, which is an aspect that we would have missed out on had we chosen to go to Marina," she says.
Engineer Mohamed Kamal, another guest in Marina says, "I have never come to Marina during Ramadan before. Even though Marina is different in Ramadan and going swimming will be impossible while we're fasting, after 'iftar' we can have a good time on the beach, far from the traffic in Cairo."
Dina Mohamed says, "Ramadan is very different in Marina compared to Cairo. Each year I spend a week to 10 days of Ramadan here. We conduct all the usual Ramadan rituals in Marina. We attend the taraweeh prayer and study the Quran, and there are study groups and group prayers that are attended by a lot of women."
Mohamed and his friends Moataz, Omar and Hisham told Al-Masry Al-Youm that they have spent the first week of Ramadan on the north coast.
Mohamed says, "My friends and I decided to come to Marina and go back to Cairo having fasted the first week of Ramadan in a more relaxed, fun environment."
Of the beach and the atmosphere in Marina, Sarah Mohamed, a worker at Porto Marina says, "Despite that both Coptic and Muslim guests come to the resort [during Ramadan], it's usually just the Copts that go swimming during the day. Some Muslims go for a swim after 'iftar' until about 8 p.m. when the beach closes. Guests usually take boats out on the sea for the day, choosing to engage in other activities such as fishing, and they return a little before sundown for 'iftar'. And some take boats out and have 'iftar' while they are at sea. Because of this, the hotel organizes boat trips that cost about 30 EGP per person. There is a lot of demand for these trips from guests here at the resort."
Bassem El Serafy, one of the owners of the island of Lazol in Marina says, "Some guests of Marina book the island for the weekend during Ramadan, to hold engagement parties and things of that sort. I thought business on the island would be bad during Ramadan, but I was surprised to find that people showed up on the island, many of them young people wanting to book the island for celebrations and whatnot."