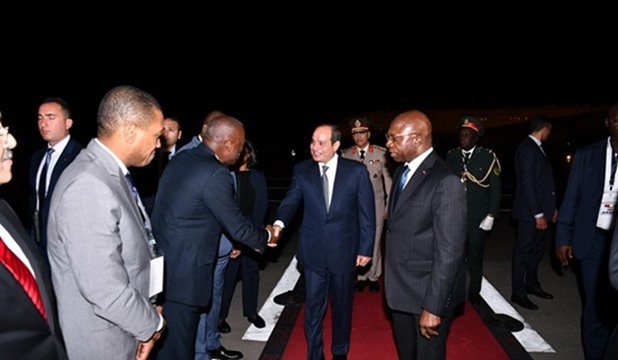 President Abdel Fattah al-Sisi arrived in Luanda, the first stop in his three-leg African tour which includes Angola, Zambia and Mozambique.
Sisi's visit to Angola is the first by an Egyptian president to the country, Presidential Spokesperson Ahmed Fahmy said.
Earlier on Tuesday the spokesperson said that the president's tour of the southern African region comes as part of Egypt's keenness on intensifying coordination with its fellow African countries.
It aims at enhancing relations with the African states in the various fields especially bolstering cooperation in the economic, trade and investment domains, in addition to giving a top priority to the African issues in the agenda of Egypt's foreign policy, added the spokesman.
The spokesman said Sisi is expected to make a series of bilateral talks with the heads of three African states with the aim of discussing mechanisms for boosting all aspects of cooperation with Egypt, the latest developments regarding a set of regional issues of common interest, in addition to crystallizing a joint framework for African action in order to push forward the development process and enhancing economic integration in the continent.
During his visit to Zambia, Sisi will take part in the 22nd Common Market for Eastern and Southern Africa (COMESA) Summit of Heads of State and Governments on 8 June. During the inaugural session, Egypt will be handed over the rotating presidency of the summit from Zambia.