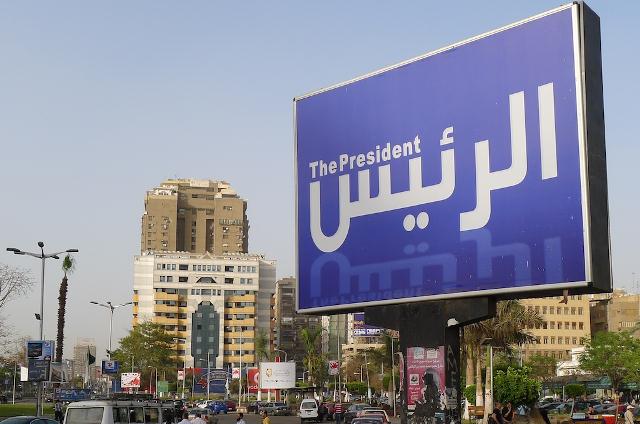 The presidential campaign has been marked by a series of questions, the answers to which have each been slowly revealed: Will the Muslim Brotherhood field a candidate? Was Hazem Salah Abu Ismail's mother a US national? Why is nobody talking about candidates' political programs?
But there are also smaller questions, such as, what's the deal with those "The President" billboards?
The billboards, located in several prime locations around Cairo, feature a navy blue background on which "The President" is written in Arabic and English. Unusually for the world of Egyptian advertising, no indication is given about which agency is behind the campaign. The anonymity lends it an even greater sense of portentousness at this time of political uncertainty; its looming presence buffets Cairo's general public wherever they go, almost a threat.
Advertising mogul Tarek Nour revealed to Al-Masry Al-Youm last week that he and businessman Ahmed El-Shanwany are behind The President campaign. Nour described it as a "purely commercial concept with a creative media message that poses one question to the general public: Who will be the next president?"
Nour added, however, that his communications company has signed a deal with a presidential candidate "whose name will be revealed in the next few days."
There were various theories about the billboards when they once appeared earlier this spring. According to one version, an advertising company is reserving them for the presidential candidates once they can start campaigning legally on 30 April. Another rumor was that they had been commissioned by the army's morale affairs department, a more oblique appeal to the general public than their recent in-your-face posters of a smiling soldier carrying an infant.
There is a long legacy of the authorities reaching out to the people through advertising — so much so that one source at the 2M Advertising Agency who requested anonymity told Egypt Independent that these "special favors" requested of ad agencies "are required to survive in this business."
Ad agencies are obliged to participate in all national occasions, such as Sinai Liberation Day and 6th of October Victory Day, and are not paid for the use of the advertising space.
Prior to visits to governorates by former President Hosni Mubarak, the company was required to put up welcome signs with pictures of the deposed president, sometimes alongside quotes from his speeches.
"I remember that on his last visit to Port Said, the governor wasn't satisfied when we used only 20 of our outdoor locations there. He asked us to double that number, raising the total cost to more than LE60,000," the 2M source said.
"Needless to mention that each year, we had to take part in promoting the NDP annual conference in the Cairo Convention Center that included outdoor signs and printing pamphlets," the source said.
The most persistent rumor surrounding The President campaign, however, is that the billboards are part of the presidential campaign of Ahmed Shafiq, who was briefly appointed prime minister in February 2011 but was replaced following objections about his ties to the Mubarak regime.
Shafiq campaign spokesperson Ahmed Sarhan was noncommittal when Egypt Independent asked him whether Shafiq had anything to do with the billboards.
Sarhan said that "no official statement" has been made about the billboards by Shafiq campaign bosses and that they may conduct opinion polls with members of the public in the next few days to "gauge their reaction to the posters."
Perhaps tellingly, Sarhan said that "there is no such thing as negative marketing," and that speculation about Shafiq's involvement in the campaign is not a bad thing.
Another presidential candidate, lawyer Khaled Ali, thinks otherwise. He has filed a complaint with the Presidential Elections Commission, which oversees the enforcement of campaign regulations, demanding to know whether the billboards are part of a presidential campaign and whether they violate the LE10 million spending cap on presidential election campaign spending.
The 2M Advertising Agency source told Egypt Independent that the average price for a billboard is LE2,000 per square meter per year, and that a billboard measuring 12 by 8 meters costs around LE30,000 per month.
This price is significantly higher in prime advertising locations, however.