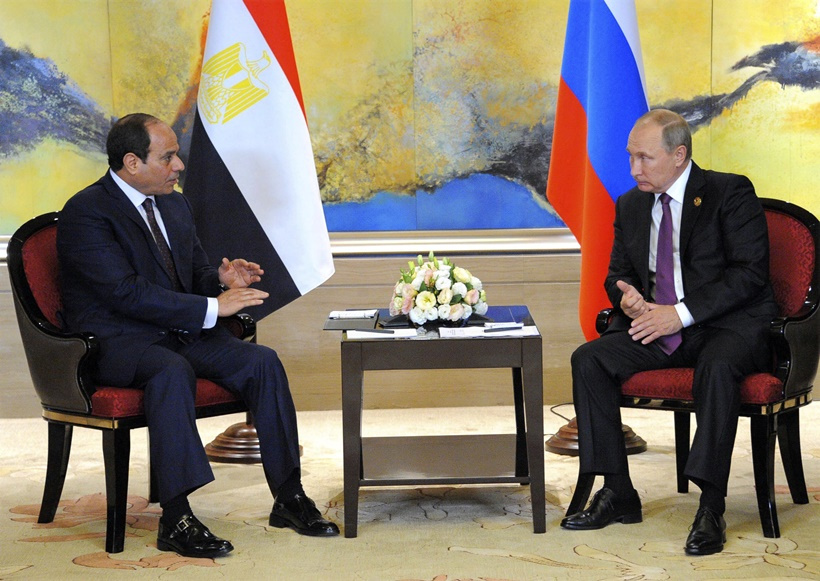 President Sisi called on Russian President Vladimir Putin to attend the ceremony to lay the foundation for the Dabaa Nuclear Project. Both presidents agreed to set the schedule for the visit at the earliest time.
Sisi praised Egyptian-Russian bilateral relations in numerous projects, notably the establishment of the Russian industrial zone in Port Said and the Dabaa nuclear plant in Matrouh.
Egyptian-Russian trade exchange surged to 14 percent as the result of a boosted economic relationship since June 2013, Putin pointed out.
Sisi and Putin underlined the importance of laying political solutions to retain stability and maintain the territorial integrity of Middle East countries.
Putin praised Egypt's effective role in settling conflicts in the Middle East through political solutions. Russian flights to Egypt are expected to resume following the technical deliberations between the two countries, taking into account efforts by Egyptian authorities to secure airports, said the Russian president.
Russian Minister of Transportation, Maxim Sokolov, confirmed that Russian experts gave positive evaluations to terminal 2 in Cairo airport, announcing they will visit other Egyptian airports to ensure security measures over the next period.
Edited Translation from Al-Masry Al-Youm