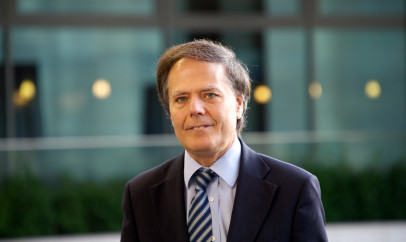 Italian Foreign Minister Enzo Moavero Milanesi will arrive in Cairo on Saturday for his first visit to Egypt, where he will meet with President Abdel Fattah al-Sisi to discuss regional issues, developments in the Middle East and the Libyan crisis.
Milanesi will then hold a press conference on Sunday with his Egyptian counterpart, Sameh Shoukri, and will meet the Grand Sheikh of Al-Azhar Ahmed al-Tayyeb and Pope of Alexandria Tawadros II.
The Italian minister will inaugurate a new sections and operation rooms in the Italian Hospital Umberto Primo in Cairo, accompanied by Italian businessman Eugenio Benedetti, the grandson of the hospital's founder in Cairo.
In an interview with Al-Masry Al-Youm, Benedetti said that has developed a plan to develop 6 operations rooms equipped with modern equipment to accommodate the largest number of cases. The total cost of development amounted to 1.8 million euros.
Milanesi will also meet the Italian community in Cairo this evening and will open the pavilion for Italian archaeological discoveries in the presence of Antiquities Minister Khaled al-Anany.
Director of the Italian Cultural Center in Cairo Paolo Sabbatini said that a special exhibition was held in the Egyptian Museum in Tahrir for the archaeological discoveries made over the past few years by Italian archaeological missions in Egypt.
Foreign Ministry Spokesman Ahmed Abou Zeid told Al-Masry Al-Youm that the meetings will be of particular importance in relations between the two countries. The challenges of combating terrorism, illegal immigration and the Libyan crisis are all on the list of common issues, Zeid said.
He stated that the volume of trade exchange between Egypt and Italy reached 4.7 billion euros, and that Italy is the fifth largest foreign investor in Egypt thanks to the contributions of Italian company Eni in the field of energy, alongside the increase of Italian tourism to Egypt by 60 percent.
Edited translation from Al-Masry Al-Youm