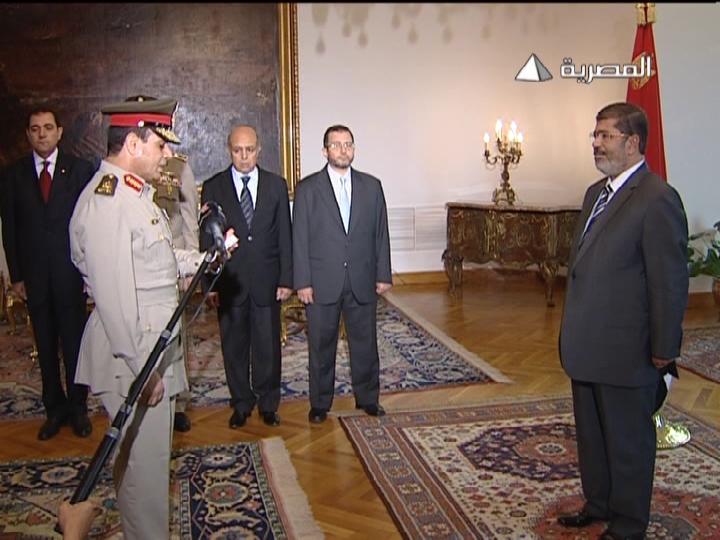 Mohamed Fouad Gadallah, legal adviser to Egyptian President Mohamed Morsy, has said that former Defense Minister and interim ruler of Egypt Mohamed Hussein Tantawi and former army chief Sami Anan had not been aware of Morsy's decision to remove them on Sunday.
Gadallah told Al-Masry Al-Youm that Morsy, being the supreme commander of the armed forces, has the right to pump fresh blood in the armed forces. He added that the decision was not linked to the deaths of 16 Egyptian security officers in an attack on a checkpoint in Rafah, Sinai, last week.
Besides removing both generals, Morsy decided also on Sunday to revoke an addendum to Egypt's interim constitution which the Supreme Council of the Armed Forces, led by Tantawi, issued in mid-June to diminish the powers of the new president.
Gadallah said Morsy expressed gratitude to the pair for their time in service. "Morsy is capable of taking any decision, and there had been no deals between the president and the SCAF," he said.
Concerning speculations that the decision came in the wake of recent calls by anti-Muslim Brotherhood figures for a fresh revolution that would lead to a military coup against Morsy, Gadallah described the suggestion as "not worth the comment," adding that all actions by Morsy were made in the interest of the people.
Morsy also appointed Mahmoud Mekky as his vice president, Lieutenant General Abdel Fattah al-Sisi as Egypt's new defense minister, and Sedqi Sobhy as the new army chief of staff Sunday.
Additionally, he awarded honorary badges to Tantawi and Anan and appointed the latter as his adviser.
Meanwhile, a military source said there is no negative response to Morsy's decisions.
Egyptian Television broadcast a statement from a military source saying, "It is not true that there are negative responses among members of the armed forces to the decisions [made] by President Morsy."
The same source described the armed forces as a longstanding institution characterized by professionalism, and added that members of the armed forces appreciate the role played by Tantawi and Anan throughout their service in the army, which culminated in the protection of the 25 January revolution.
Edited translation from Al-Masry Al-Youm