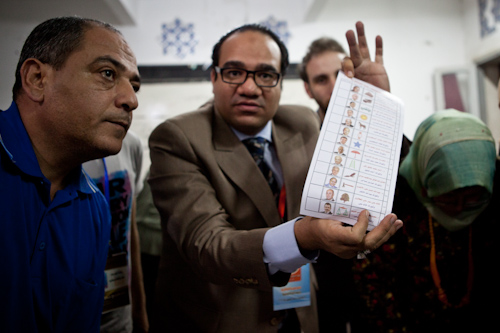 The campaigns for three former presidential candidates who lost the first round of the election described the voting results as "an insult to the nation due to the violations that marred the vote," in a joint statement they issued.
Officials from the campaigns of Nasserist Hamdeen Sabbahi, leftist lawyer Khaled Ali and former Muslim Brotherhood member Abdel Moneim Abouel Fotouh said the election results are an insult to the nation and its will and revolution.
Ali's campaign said several violations took place, such as the inclusion of names of deceased people on the voter lists and a lack of privacy while casting votes.
Khaled Gamal, the legal adviser for Abouel Fotouh's campaign, said a single violation of those mentioned would invalidate the entire vote in any other country.
The campaigns said they are challenging the result of the election — not before the Presidential Elections Commission or the ruling military council, but the Egyptian people.
Gamal said this step has been taken after the three campaigns exploited all the legal venues to contest the result of the election.
"We are now leaving the Egyptian people, who we know to be revolutionary and to defend their legitimate rights to decide," he said.
Farouk Sultan, the head of the Presidential Elections Commission, had previously said that the challenges filed against the result of the vote were not serious enough to invalidate the election.
Former Prime Minister Ahmed Shafiq and Muslim Brotherhood candidate Mohamed Morsy won the first round of the historic election, sending them to the runoff slated for 16 and 17 June.