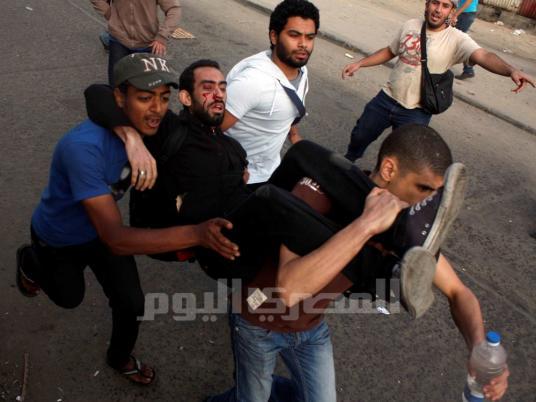 Rock throwing and birdshot fire broke out in Abbasseya Square on Wednesday evening, injuring two protesters. At least 11 are dead after a new wave of clashes between protesters and unidentified attackers using Molotov cocktails and other weapons began early Wednesday.
On Wednesday afternoon around 500 protesters milled about, but by late evening the numbers grew to a few thousand.
A march organized by the Doctors Syndicate from Fatah Mosque downtown arrived with at least a thousand demonstrators.
The sit-in began Friday as a rally of supporters of disqualified Salafi presidential candidate Hazem Salah Abu Ismail and was later joined by other activists protesting military rule. More of Abu Ismail's supporters made their way to the square in the evening, carrying black flags bearing the Muslim profession of faith.
Abdallah Kahlawy, who works on the popular campaign supporting presidential candidate Abdel Moneim Abouel Fotouh, also highlighted the spectrum of people present.
"I just want to make it known this is not an Abu Ismail supporters' protest, this is against military rule and the unjust circumstances surrounding the presidential campaign," he said, referring to a controversial constitutional article that prevents Presidential Elections Commission decisions from being appealed in court.
Protesters told Egypt Independent they had come for the express reason of trying to end the bloodshed.
After visiting field hospitals in the square as well as Demerdash and other hospitals around the area, Khaled Ali, a leftist lawyer and independent presidential candidate, said he had personally counted 20 dead. He also anticipated the number would rise as many people are yet unaccounted for.
"Regardless of the reasons for the protest, it shows the fact that the revolution is always able to create a street movement whenever there is discontent and that the revolution continues and will continue," Ali told Egypt Independent.
Military police and other security forces deployed around the square, the nearby Defense Ministry and a Coptic church after a second round of fighting around 9 am.
At least 10 tanks lined the streets leading into the square from Ain Shams University and most roads were cordoned off with barbed wire.
Protesters manned the square entrances, allowing foot traffic to pass.
Al-Masry Al-Youm reported that Abbasseya residents delivered three supporters of excluded presidential candidate Hazem Salah Abu Ismail to security authorities. The residents also detained three members of the Revolutionary Socialist movement, accusing them of distributing leaflets.
The three Revolutionary Socialist members included the head of Talaat Harb Cultural Center, Ahmed Mohamed Metwally, 34; Momen Ahmed Shaker, an independent director; and Moetazza Mohamed Salah, 39, an actress. The members were found to be carrying a number of leaflets reading "Yes, we want to save Egypt from tyranny" bearing the Revolutionary Socialists movement's logo. The detainees were delivered to security authorities in Cairo which referred them to the prosecution for investigation.
The residents also detained three Abu Ismail supporters that included Shaheen Hassan Abdel Hadi, 35; Hani al-Sihmy, 33; and maintenance technician Mohammed Othman Abu al-Magd, 33.
The residents claimed that one of the Abu Ismail supporters had shot an automatic rifle in Abbasseya Square. Authorities did not find any weapons with the detainees, who were referred to the prosecution for investigation.