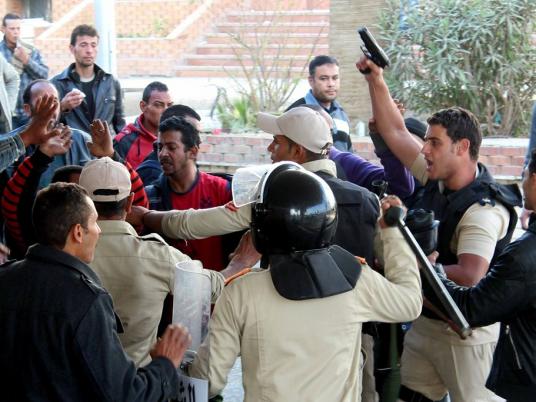 Protesters have stormed a police station on Saturday in Suez following fierce clashes with security forces, and freed prisoners there.
They also took the weapons that were left behind by policemen who fled the station as it was being stormed.
The clashes had started earlier, as protesters threw molotov cocktails at the police station, while security forces threw tear gas canisters to disperse them.
Fire has caught a nearby building, according to the account of an eyewitness, as well as that of Khaled Bahgat, the head of the Civil Defense Authority.
Suez has been the site of bloody clashes since Friday with the commemoration of the second anniversary of the 25 January revolution which also kicked off in the same city. Nine were killed in the clashes and tens were injured. The clashes followed the funerals of the victims
The Armed Forces started deploying in the city to stop violent confrontations. Al-Masry Al-Youm reported that the military took over the Suez security directorate from police forces on Saturday evening.
The violent protests in Suez were one of several to shake cities along the Suez Canal. In the nearby Port Said, 30 people died in deadly clashes following angry protesters' attempt to storm a prison where 21 defendants were sentenced to death by a Cairo court on Saturday, in the case of the football ultras' massacre of last February.
Edited translation from Al-Masry Al-Youm.